Dedication, Adaptability, Instagram: The Go-To Marketing Guide For Beauty Salon Owners
30/10/2017
2364
1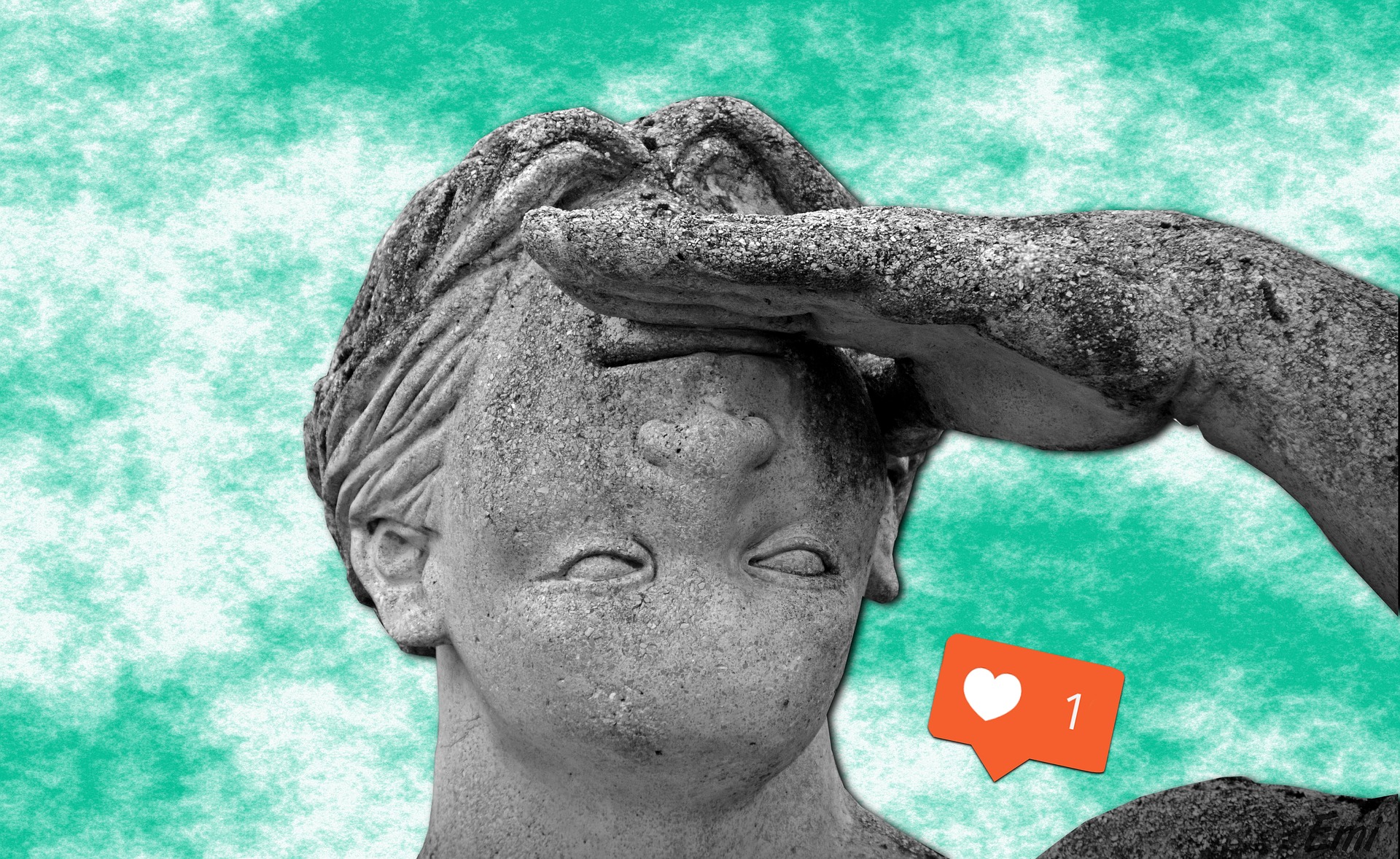 This post is also available in:



I was a smoker. My morning routine never kicked off with exercise, coffee or a kiss from my husband. Heck, even the toothbrush wasn't my priority back in the day.  
As soon as I woke up I coughed for a couple of minutes and then I reached out for a cigarette. That was my suicidal, masochistic ritual.
Every goddamned morning. For 15 years in a row.
I quit smoking 4 years ago and I have never been happier since. My only regret today is not quitting sooner. Not that I didn't try, I did everything by the book from patches to vaping to sheer willpower. Some practices helped for a day, others helped for a week, but none did the trick permanently.
It was my determination that enforced me to keep trying after endless failures until I finally succeeded. That and the fact that I kept on learning from my mistakes.
Determination and adaptability kept me going. They kept me trying. They led to victory.
But what do they have to do with marketing, beauty salons, and Instagram?
Trial and error
A social network with an emphasis on stunning visuals like Instagram and beauty-related businesses seem like a match made in heaven. And yet, thousands of beauty salon business accounts gather dust instead of likes on the endless terrains of inspirational quotes, food or selfies.
Countless salon owners give Instagram a shot for like a month or two and don't bother to invest further time in it after the page fails to pay off. Then they look at their competitors' successful pages gathering likes, shares and, most importantly, leads and bite their lip.
Others keep their page updated just for the sake of it or because everybody else does so. This won't come as a surprise but their results are not that different from the ones of the quitters. These entrepreneurs also get the bitter round donut of a zero.
The latter category gains an edge, though. They've already adapted dedication – one half of success.
All that's left for them to master is adaptability. Luckily you don't have to go further than this article in order to master it. Sure, we are in one hell of a bumpy ride, but isn't the outcome of increased profits, brand recognition and dominance in your niche worth the effort?
And so your path of trial and error begins!
The ultimate Instagram marketing guide for beauty salons  
Marketing isn't an art, but a science. And, like with every other science, you start with mastering the basics. You may already have gone through everything Instagram itself has to offer, but if you feel like refreshing your memory here's a quick link to the "getting started" page.  
I also suggest enrolling in a few courses on Facebook's Blueprint or Udemy. Most of them are completely free or come with amazing discounts every once in a while.
There you can quickly learn about Instagram quick growth hacks for beginners for $0 or get your hands on a step-by-step guide to 10.000 real followers for the price of two decent coffees at Starbucks!
Marketing is a science, but it is not a rocket science. Most of the curses are one or two hours in duration. Dedicating a single weekend into mastering new practices will pay off big time.
Sure you won't become a hardcore marketing guru after a handful of online lessons, but – trust me on this one – you will know more than most digital marketing consultants that offer their services to businesses today.
Now that we are done with the basics, let's move on to the fun part, shall we?
Have a plan!
Instagram is a behemoth social network. Its pool of users attracts businesses from all over the world. Every one of them wants a bite from the 700 million+ audience.
Few of these businesses make it to the top.
You see, one can't simply compete with 80 millions of photos uploaded into the network on a daily basis, not to mention standing out from the crowd consistently. You'll need a plan to do it and a pretty darn good one.
Let us craft a plan that is worthy of your beauty salon right now!
Don't post regularly – introduce traditions!
Everyone and their mother will tell you that a great social media marketer ensures that the posts on a business page are published on a regular basis. Fewer people, however, will go into more depth with the matter in hand.
Let's settle this once and for all – posting random pics, regularly or not, cannot be considered as a vivid strategy. You can ram iron gates with your head and expect the same success rate: you may get what you wanted somewhere down the line, but the odds are you'll end up with a shattered skull in a mental asylum´s hospital bed.
Embrace traditions. Create a weekly posting plan and define the theme for each day. Achieve success and repeat, repeat, repeat!
Here's a fine example of what I have in mind shared on Pinterest: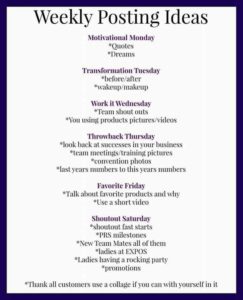 This strategy is simple, yet it works real magic. Not only do your fans know what to expect from you, but they are also aware of what content you'd expect them to share on your page.
Note that Tuesday's "before/after" posts will be the visiting card of your salon. Ask your clients for permission to share them online and make the pics as professional as possible.
Pro tip: Use squares. There are a lot of photo apps for Android and iOS that allow taking square shots. Use them and your images will feel more native to Instagram.
Overcome and adapt
Sticking to the plan is important but so is flexibility and your desire to break a few rules. A plan is only as good as the results it delivers, after all.
Use your template of weekly posts for like a month or two, gather data and learn about what works and what doesn't. If particular themed posts seem to gather less attention than the others – replace them with something else without a second thought.
Instagram's built-in analytic tools should be enough for you to gather intel and work with said data.
Don't change your ways too quick though. You have to make sure that enough people went through your posts without caring before you eliminate that type of content from your page.
Make the machine work for you!
Automation is also an important element of running a successful Instagram page. You do have a business to take care of and you can't afford to spend all of your time on photos for the web. Sure, you can hire a dedicated marketer, but do you really have the budget? And why would you bother? It's 2017 and there's literally an app for everything nowadays.
Buffer

. Publish your awesome content across all of your social media platforms without breaking a sweat. You can schedule a bunch of posts, set the time for them and relax. The app will publish everything for you.

Hootsuite

. You can schedule your posts with Hootsuite as well, but that is not where the app shines brightest. Smart marketers use it to do two things: find the best time to post content and spy on competitors. Put on your James Bond hat and learn what the rascals are up to right now!

Later.com

. This app is used to share your content across the network of 600.000 brands and influencers for more coverage and engagement. Or so they say.
There's a plethora of other tools out there. Enough to get lost even. That's why I am consciously limiting your options to only three solutions. They will do for the start.
Up your hashtag game
We all know that hashtags are an integral element of today's social media. People follow them and the hottest ones open doors for your content to get seen and engaged with. Hashtagify can help you find the best fits, but bear with me for a moment…
Engagement is not sales!
Your business is local and your customers are blocks away from you physically. Likes and shares from Philippians or Russians are useless to a Washington D.C. based beauty salon.
Use geo-based hashtags like #BestHairDayNY or #HotLA to indicate where you are located to your audience and attract more of the people you are interested in through promotion.
That's it. Now you know everything there is to marketing beauty on Instagram. Go ahead and use your newly gained knowledge wisely. And don't forget to check your booking software because new deals will pop like mushrooms after a rainy September. That's a promise!