Luxury Picnics: How The Table Service Optimises SimplyBook.me
31/07/2023
1159
0

This post is also available in:




In the realm of luxury pop-up picnics, The Table Service is creating memorable experiences with an innovative blend of fun, convenience, and opulence. Known for their well-curated picnics under the California sun, The Table Service has harnessed SimplyBook.me's features effectively to streamline bookings and enhance their customer experience.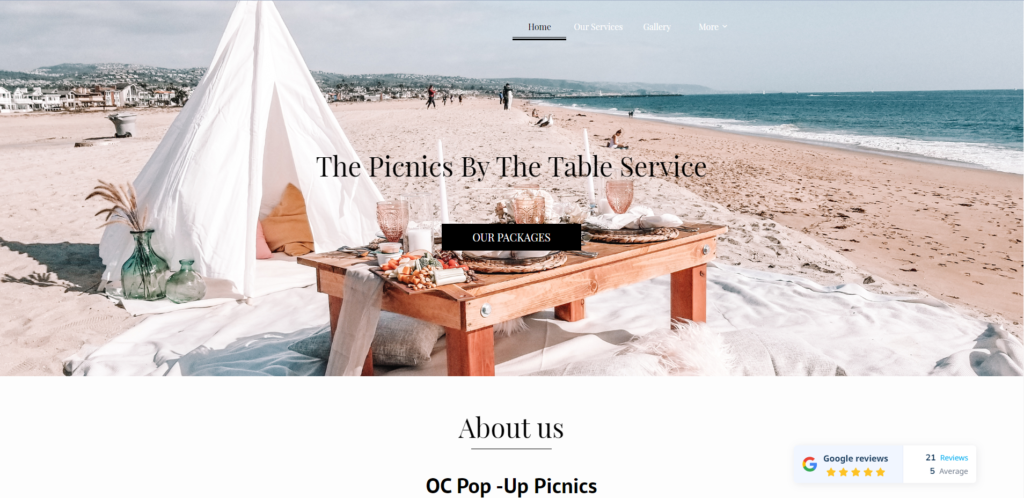 Gaining Customer Confidence
The Table Service knows that building trust is very important. They use SimplyBook.me's Google Reviews feature to share good customer reviews on their booking website. These testimonials provide a glimpse into the memorable experiences they offer, encouraging potential customers to book a picnic experience of their own.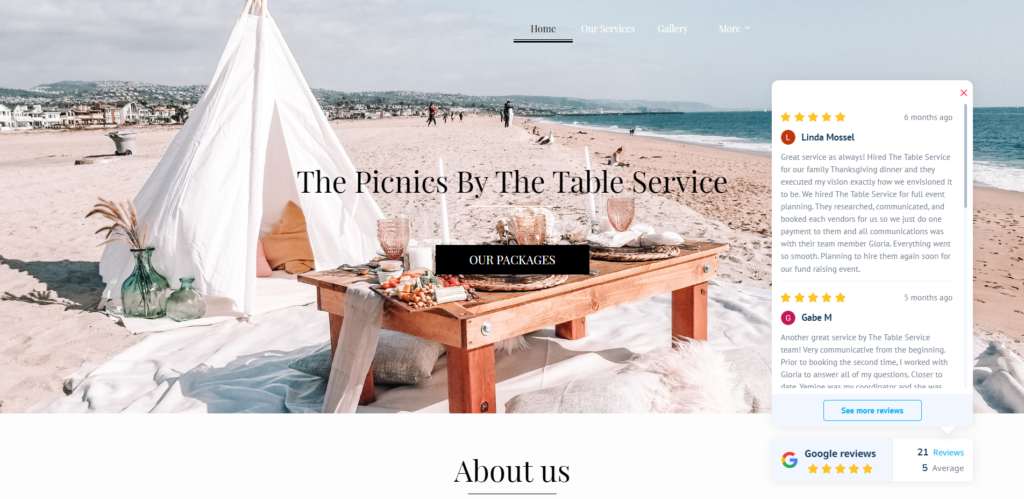 Visual Testimonials
The Table Service uses our Photo Gallery feature to its fullest potential, creating a stunning online portfolio of their luxury pop-up picnics. Each carefully selected image showcases their attention to detail and the personalisation of their setups. This visual display not only enhances their online presence, but it also serves as a vivid testament to their unwavering dedication to creating picture-perfect experiences.
Potential customers browsing their booking website can instantly get a sense of the luxury and convenience that The Table Service offers. Moreover, the images offer a glimpse into the beautiful locations, bespoke decor, and the overall ambience of the picnics they set up. This visual storytelling goes a long way in building customer confidence and showcasing the uniqueness of their offerings.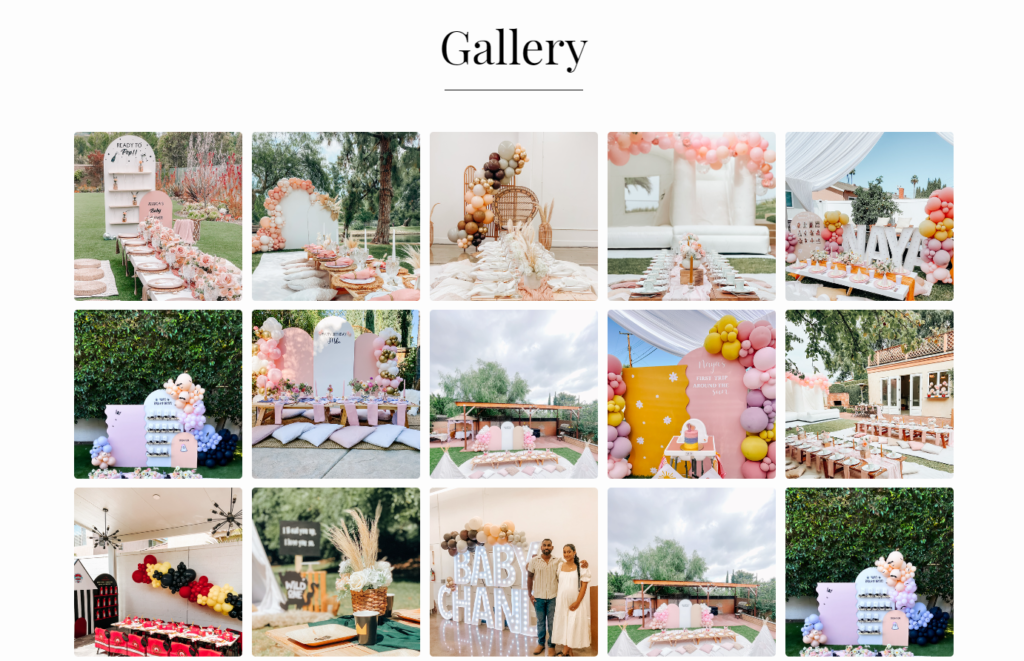 The Perfect Gift
The Table Service has embraced the concept that their luxury picnics make for unique and memorable gifts. To facilitate this, they've incorporated our Gift Cards feature into their booking system. This option provides their customers the opportunity to purchase gift cards, an ideal present for special occasions or just because.
These gift cards come in various denominations and can cater to different group sizes, making them flexible to suit different needs. Customers can buy gift cards valued at $100-$300, or for specific group sizes, each with different values.
This flexibility allows customers to tailor their gift to their loved ones' needs, for small or large gatherings. Through this feature, The Table Service expands their reach, letting more people enjoy their luxury pop-up picnics.
Location Convenience
The Table Service provides luxury picnics at various beautiful locations across California, including tranquil parks and vibrant beaches. They make the most of our Multiple Locations feature, allowing their customers to select their preferred picnic location while booking.
Customers not only enjoy the convenience of choosing their preferred location but also the opportunity to add a personal touch to their luxury picnic experience. If clients prefer a different location, The Table Service accommodates requests based on availability and permits. Integrating location choices into bookings boosts customer satisfaction and aids in delivering unique picnic experiences.
Picnic Customisation
The Table Service knows that every picnic is unique, and their customers value the opportunity to add a personal touch to their experience. This understanding led them to utilise the Service Add-ons feature provided by SimplyBook.me. With this feature, they offer their customers the ability to enrich their picnic experience with special add-ons. These can range from decoration upgrades and extra seats to extended time slots, catering to various needs and preferences. These add-ons not only provide an additional layer of customisation but also add flexibility to their services. Customers have the freedom to create a picnic that perfectly suits their requirements and taste.
Boosting Credibility
To continuously improve their service, The Table Service encourages customers to leave reviews using our Reviews feature. These reviews allow them to gain valuable feedback and demonstrate their commitment to customer satisfaction.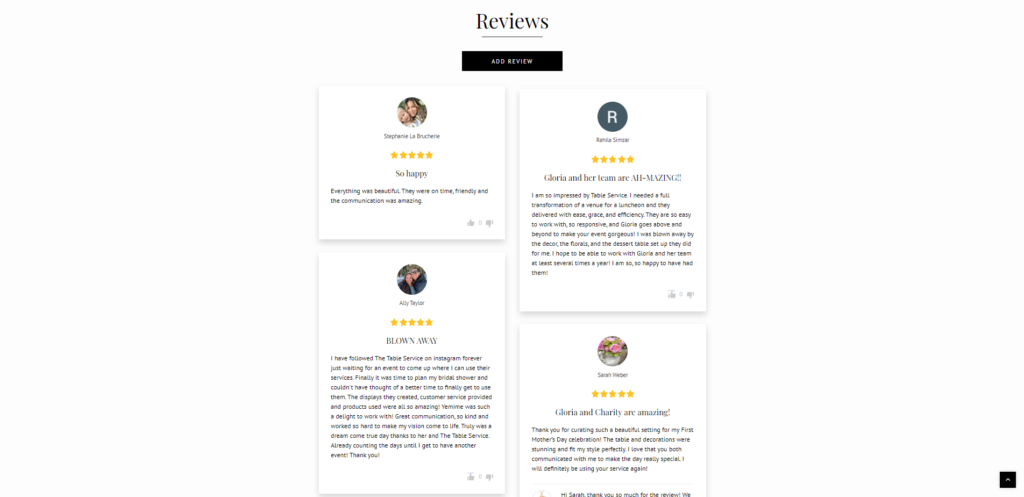 Tailored Services
Using our Intake Forms, The Table Service collects booking details like occasion type, special requests, and inspiration images. This proactive approach ensures a smooth and personalised picnic experience for every customer.
---
The Table Service uses SimplyBook.me features to revolutionise bookings and boost customer engagement and efficiency. Their tech-savvy approach to delivering standout picnic experiences is an inspiration in the events industry.