Google Reviews on SimplyBook.me Websites
26/10/2022
1017
1

This post is also available in:




You know that the best way to get your business on page one of a Google search is to get yourself a Google Business profile. You also understand that you will not get many visitors without a good Google rating. So you know you need to have a filled-out Google profile and heavily encourage your happy clients to leave five-star reviews. Now here is "The Question" Where should you request your reviews? Should you ask for reviews on your booking website or Google?
Now you don't have to make that decision. You can ask for Google reviews to boost your search response and still display those same reviews on your booking page.
Don't want to integrate bookings from Google?
It's not a problem. You can still display reviews you have received on Google even if you don't have a profile. However, I do have to say that you are missing out on a massive marketing opportunity by foregoing the Google Business Reserve. In my mind it's a no brainer, but perhaps you have your reasons. Google Reviews custom feature is separate from Google Business Integration and doesn#t require you to enable it.
How Google Reviews Display on SimplyBook.me Websites
If you are using a SimplyBook.me website for your business, it is very simple to show your Google reviews and your star rating on the home page of your site.
Once you have enabled the Google Reviews feature in the SimplyBook.me interface, it will appear on your home page as a floating block at the bottom. It will display the Google logo, the number of reviews you have, and your overall star rating.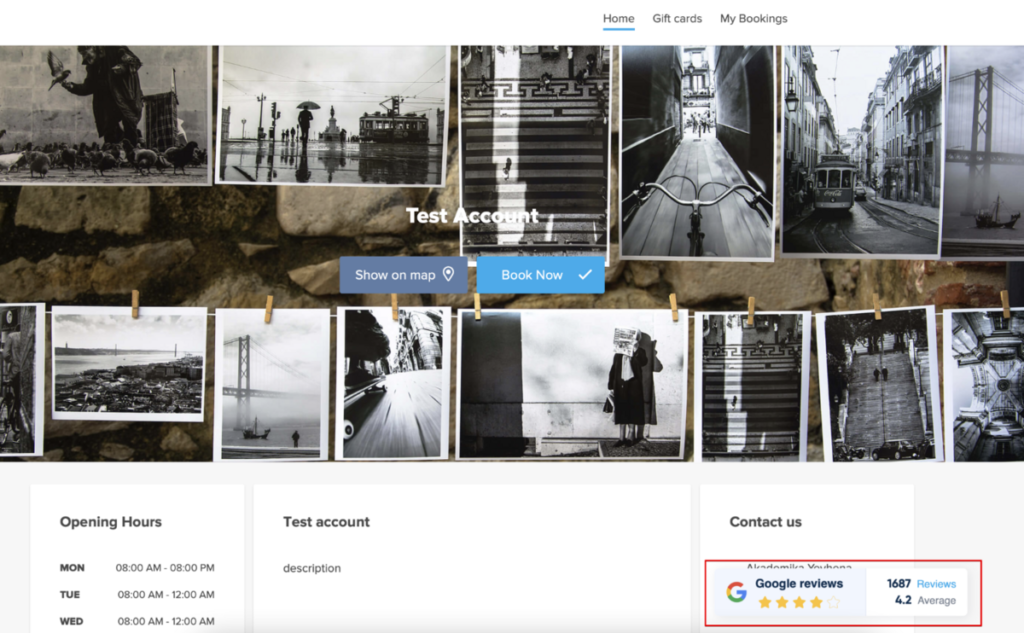 When your clients click on here ther can view the most relevant or newest reviews. You choose which when you link your business to SimplyBook.me.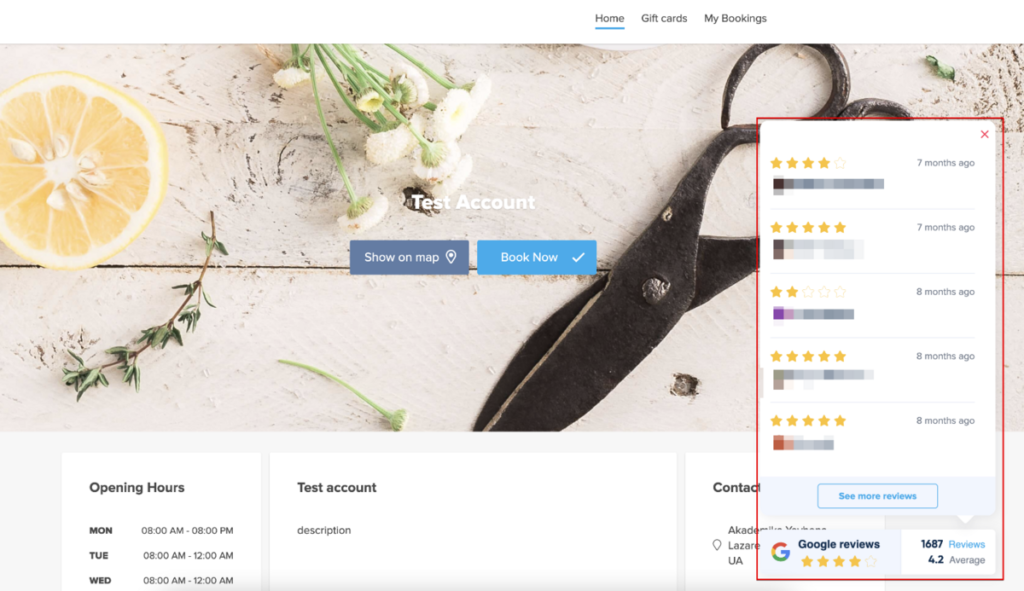 It's awesome to let your clients see your overall rating without having to scroll or search your website for your testimonials from other clients. However, this only applies if you have a good rating. If your google rating isn't so good, you should hold off on displaying it until you can get your stars rating up.
How to Set Up Google Reviews with SimplyBook.me
The Google Reviews custom feature is only available on the paid subscription, but does mean ALL of the paid subscriptions, right from the most basic package.
You can find all custom features in the Custom Features menu on the left side of the screen. You can use the search box or narrow down the options with the feature labels, "Marketing".

When you enable the Google Reviews custom feature, you will need to ensure that your company details on the SimplyBook.me system are the same as those on your Google Business. Otherwise, the systems won't synchronise and the reviews will not display on your page.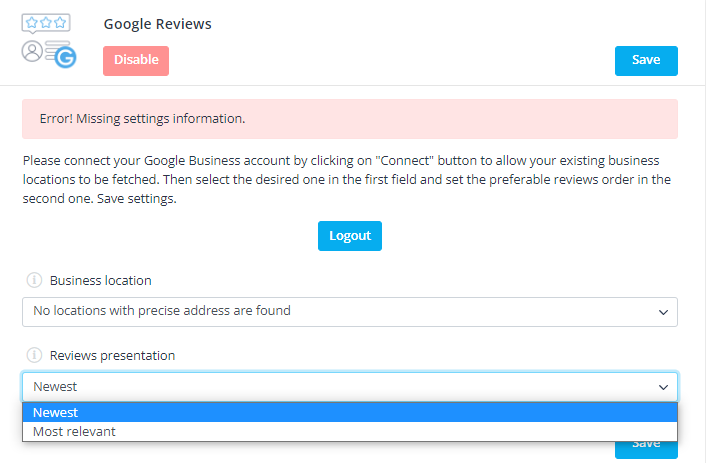 As you can see, with the Google account I used to linked to SimplyBook.me, I do not have an address listed that is the same as the one on my demo account. Consequently, it throws up an error.
Assuming you have your matching accounts address and can select the correct one from the Business Location drop down, you need to select which Google Reviews you want to display first. It's up to you whether the best option is your newest or most relevant reviews.
If you reviews have improved over time, you are probably better choosing to display the newest ones first. Alternatively, you might have had a mixed review history, which would mean you want to show the most relevant reviews. In the "Most Relevant" approach, you need to make sure that you respond appropriately to your negative reviews. That is just as important as getting great reviews.
When you have decided on your review display, it's time to save. Click the "Save" button and then check your webpage to make sure it's showing.
Voilá!
Now you can take advantage of a larger review pool to entice your potential clients. However, don't neglect your reviews on your SimplyBook.me webpage getting reviews in different places is always good.