April Newsletter – You don´t want to miss out on this one!
06/04/2023
2795
0

This post is also available in:




Welcome to our April newsletter, where we spill the beans on what's been happening in SimplyBook.me lately. We hope you're all doing great and enjoying the start of the Spring. So, what's been happening? Well, we've successfully released a bunch of new developments and features that we think you'll love! These updates will make managing your business and schedules easier and more efficient.
What's New From March?
March was busy as we toiled hard on exciting new developments that we can't wait to share with you. Our development team has been devoted to providing ingenious solutions that will enrich your experience with our booking system. Some of which we know you have been waiting for with bated breath.
Before we get started on the SimplyBook.me new developments, I have to tell you about the new developments in SBPay.me Pro (you know, where you accept payments in SimplyBook.me).
Introducing Our Exciting New Payment Request Links for SBPay.me Pro Users!
We're excited to introduce a robust, flexible, and user-friendly payment request module to the SBPay.me Pro plan that will transform your client billing! Our Pro users can use this revolutionary new development to ditch inflexible billing systems and open up so many new possibilities.
Some of the critical features of this new payment feature include the following:
Easily Create Custom Payment Links

Charge or sell anything, such as bookings, products, recurring subscriptions or outstanding debt
Add taxes or apply discounts if relevant
Share the payment link to clients via email, SMS or QR code
Upon reception, client then chooses to insert credit card details or pay for the outstanding amount with Apple Pay/Google Pay
You can decide to save client´s credit card information for future client charges
The payment request feature for SBPay.me Pro plan users is game-changing for your payment processing. We're excited to see how you'll use its versatility to expand your business.
Stay in touch for the complete article and user instructions – it will be coming soon.
Now diving seamlessly into the SimplyBook.me releases.
Multiple providers per user
Until now, users have been able to connect to and see all providers, for senior users, or only one provider in the case of the junior user. This has not solved the various scenarios our users have needed, where they want junior role users to access only one provider but a few selected providers.
This new feature allows you to create multiple provider accounts for junior employees, allowing them to split their online and offline bookings, group classes, and individual services into separate calendars. This means you can still restrict access to their work only and prohibit access to overall system settings or other users' settings. This can also allow branch managers (still Junior Users) to keep track of their branch and staff without access to other locations.
New custom email templates
New templates for custom emails have been added so users can choose from the ones that match the booking website theme or by occasion and use them in communications with clients, booking notifications, etc.
For a detailed explanation and examples of the new designs, you can read the release article posted on 04/04/23. There are some gorgeous new designs for different events, holidays and customer contact.
Custom Intervals Before Booking (or min/max time before booking)

We have always had the option for you to set an interval before clients can book an appointment. Whether that interval was 30 minutes or 30 days, it applied to the whole business. Now we have a new custom feature allowing you to set custom min/max times before reservation per each service or class.
See how to set this up with complete instructions here.
New Admin App Contact Functions
Upon tapping on the client's phone number, the app will prompt you with different messenger options associated with this phone number, including call and text message options.

So, suppose you want to contact one of your clients about something. You can go to your mobile app and select the client and their phone number. You will see the options available for that user. Maybe they are Telegram users or WhatsApp aficionados. Perhaps they even have Viber, too – I know I have all three.
Search Bar in the Admin Interface
We know that SimplyBook.me has grown significantly, and sometimes, finding the information you are looking for might be difficult. So, we have now added a search bar to the admin interface that allows you to look for some fundamental features, the help centre and video tutorials.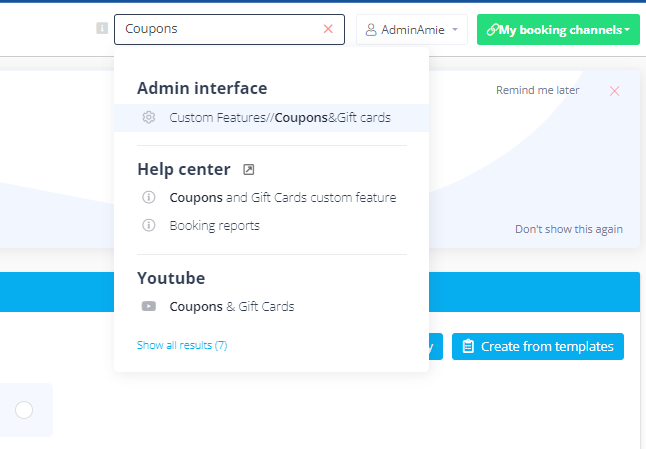 The results are separated into help centre articles, admin interface settings, and YouTube tutorials. You should be able to find anything you need.
Reports & further improvements
Our reporting function is currently under heavy development, and new reports are coming out regularly with improvements and extra information. Recent new developments include redesigned reports, and we're adding improvements for data display in the SMS report and the filter display.
Some new additions to the data available in the newly released reports:
– Discount code in the booking details report
We have added a display of the gift card/coupon codes in the booking details report if the discount was used during the booking process. Keep an eye on the discount codes used by clients. Are your promotions and discounts working for you?
– Cancelled bookings
The status in the Booking Details report now allows you to find Cancelled bookings, but we also need to allow users to select the following status:
Cancelled and Paid
Cancelled and refunded
This is an excellent way to keep track of cancelled appointments and whether they have cost you revenue.
Restricting invalid email domains
As part of our security protocols, we will not allow your clients to use email addresses with non-existent domains or temp email addresses for booking or creating client records. This will reduce the risk of someone spamming your booking system with fake bookings that could severely affect your business.
Allow Directory Activation on sign-up.
We have added a checkbox to the final step of the registration process. This will allow you to activate the listing in our Booking.page marketplace from the very beginning of your system use.
However, even if you are a long-time system user, we strongly recommend using the Booking.page marketplace to improve your SEO and gain access to more potential clients. It costs you nothing.
Line liff
A new widget/custom feature allowing the integration of the booking website with Line Messenger. This will enable clients to make bookings directly from Line Messenger.
This is only available for users in Taiwan.
Coming up in April
Now, let's talk about what's coming up in April. We'll give you a sneak peek of what's coming up next. We continually strive to improve our offerings and give you the best possible experience, so we're confident you'll love our latest releases and plans.
Deposits and coupons/gift cards compatibility
Not allowing discount codes to be used with deposits has irritated many of you. Since so many people have commented on this discrepancy, we will enable using discounts also with the deposit payment.
TapToPay in Admin App
If you use Stripe, you have probably heard of their newest TapToPay feature. This awesome feature will allow you the option to accept payments via tap to pay from within the mobile admin app.
Unfortunately, this is only available for our USA users. However, it doesn't usually take Stripe long to start rolling out its new features and availabilities worldwide. Once we have released this feature, we will keep you updated with new availability.
Custom gift cards design
Want to create your own gift card designs? Similarly to creating custom email designs, we are developing an editor allowing you to create branded gift cards. This will also allow for custom text fields and the option to omit the "price", specifically for actual gifts.
Feature introduction in admin
We keep developing new features and enhancing old ones, but sometimes sticking with what you have feels more manageable. "If it ain't broke, don't fix it!" However, the chances are that we have developed some excellent features that will really help you manage your business bookings.
With this in mind, we will showcase some of our features in the admin interface, so you can see what has arrived since your first set up your system.
I know this doesn't apply to everyone. Some of you are very active, staying up to date and even requesting new features.
Client app enabled marker in the client report
If you're using the client app to make your business the number one option for your clients, you want to know if the clients you have invited to download the app are actually using it.
One of our upcoming developments is to include a marker in the client report to show if the client has used the app. If you have a large number of clients not using the client app, you might want to keep pushing the app to them – without including the clients who are already using it.
Products sales as a standalone
We know you have been waiting for this one. The good news, this is in the development stage. While we might not release this feature in April, you can be assured that we are talking to users who want it to ensure we make it as comprehensive and valuable as possible.
---
Let us know in the comments what you think of our new releases and upcoming developments. If you have a great idea that would help your business, don't forget that we have a suggestion box that we keep tabs on. Maybe you are just one of many who think your idea would be an excellent addition to your booking system.
That's all for now, folks! But since we have so much coming up, keep your eyes peeled for new release articles and detailed tools tips in our blog.