How to Use AI For Email Personalization to Improve Conversion
24/03/2021
1715
4
This post is also available in:



The email campaign is one of the premier marketing tools. It's possible that email marketing tools were one of the first developments in online marketing, too – it's difficult to remember a time when one's inbox didn't get any marketing emails.
And they're still prevalent today. Every day, billions and billions of emails are sent out to tens of millions of inboxes for some marketing campaign or another. In 2020 around 300 billion of these emails arrived in the inboxes of potential customers.
However, the times have changed a little bit. Technology, both in general and in the field of marketing, has come on leaps and bounds. It no longer suffices to send dozens and dozens of emails to every single email address on your database.
In fact, the hot tool for improving email marketing campaigns is ubiquitous amongst almost all improvements in the e-commerce software field today: automation. And although email may seem like "old" tech, by applying some modern techniques to it it can become of the greatest returns on investment for e-commerce.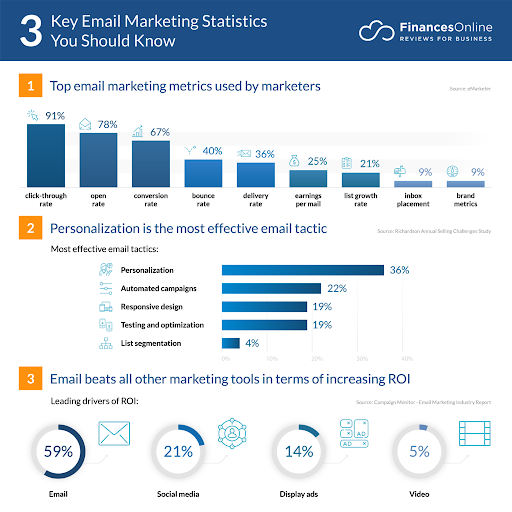 The most effective of these tactics is personalization, and through automation with the help of AI, email personalization can be used to give a massive boost to any email marketing campaign. So let's see how we can apply marketing automation tools and artificial intelligence to improve the conversion rates of your emails.
What is personalization?
Email personalization is the practice and process of sending out marketing emails which are differentiated to different clients, based on factors that you choose. It means that different types of clients or customers get different types of emails, rather than a generic "catch-all" email.
The basic way in which AI can personalize emails is through using the data gathered on customers to alter the kinds of emails that they receive. The right machine and cloud automation tools can feed this data into tailoring emails specifically for those people. That information can be very broad indeed.
It can include obvious things such as a person's age, gender, date of birth, and location. Depending on what other information you choose to gather, this data can become more specific and more useful too: you can work out what social media a person prefers and what devices they use to browse your site.
You can identify the type of things they buy, whether they're a hesitant or decisive customer, how much money they spend and how long they spend on your store. You can find out what time they browse and what time they buy.
Personalizing with customer personas
Compare these two fictional customers:
Customer A: Customer A is a man in his fifties who makes repeat yet irregular and small purchases but at regular times. He uses a computer, does little browsing, and hardly deliberates on his purchases. His purchases could be something like a subscription for a virtual phone service for business.
Customer B: Customer B is a young woman who spends a lot of time browsing on her phone. She occasionally makes big purchases, but spends lots of time deliberating, staying on pages for a long time, and removing and adding things from her shopping cart. This person could be looking for the best file sharing platform without ever choosing one.

These are two very different customer profiles. Remember them, because we'll come back to how we can use personalization to push conversion a bit later.
The question is first how to get this data.
Directly
How to gather some data is obvious and gets picked up when your customers sign up. Other than basic things like names and ages, you can also collect information about a person's preferences from checkboxes on registration, including their location, information about their job, and so on.
However, it doesn't stop there. If you want to gather more information you can offer quizzes, surveys, follow-up preference questions, and so on. These are obviously voluntary but you can remind customers that they're more likely to get discounts or deals that are suitable to them if they do answer these questions.
By automated collection
Automated collection methods can collect more interesting data. You need some kind of software or tool to collate all this information and give individual and mass analytics. This tool should also be able to detect different customer profiles, as we wrote about above, and send pre-written emails to them.
It can work with order management systems to collect data on the kind of purchases customers make, such as the frequency and form of their purchases, the amount they spend, and so on.
These email marketing automation tools are now widely available. All have different characteristics, so select the right one; you'll probably need a different tool depending on whether you have 1,000, 10,000 or 1 million customer email lists.
What can AI do with this data?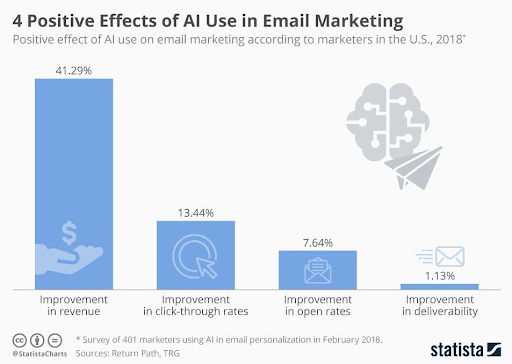 Remember our two profiles? The artificial intelligence tools work to identify different types of profiles of customers who can receive different marketing. Of course, this requires some input from you as it depends completely on your ecommerce customer base itself.
But first, let's think about what we might do with these two profiles without any AI marketing whatsoever.
Generic: We could give them both a generic email. This is unlikely to be useful to either. It might arrive at a time when neither are using their computer or phone, contain no useful or interesting information, and offer them something that neither of them really need. It would have been a complete waste of time. This would be like sending a link for useful Workforce Management (WFM) software to someone who doesn't have a workforce.
Personalized without AI: We could of course personalize their emails without the use of artificial intelligence tools. That would be fine if you had a small number of customers and a lot of staff tasked for writing customer appreciation emails. But if you have thousands of customers and/or not many staff, it would quickly become incredibly time consuming. The conversion rate of email marketing is generally less than 5%, so by devoting a lot of man-hours into personalization, you probably won't reach a solid return on investment.
Personalized with AI: That is unless you personalize the emails with AI. The AI can sort and send the emails automatically as long as it has been given the right parameters. Here's what it can do.
Customer A: Remember: Customer A is a man in his later ages who makes repeat yet irregular and small purchases but at regular times, uses a computer, does little browsing and hardly deliberates on his purchases.
This customer is the type that needs reminding at regular intervals if he wants to make a purchase, and could benefit from a "buy in bulk" discount or being linked to items very similar to the ones he buys repeatedly. He would not need a lot of emails and has comparatively less interest in browsing the whole site; if he is looking for WFO software, he will stay on that part of your catalogue and not stray elsewhere.
Customer B: Customer B is a young woman who spends a lot of time browsing on her phone. She occasionally makes big sales, but spends lots of time deliberating, staying on pages for a long time and removing and adding things from her shopping cart.
This customer may need to be emailed offers that push her "over the edge" from deliberating to buying, whether that's discounts, two for one offers, things like that. She could also benefit from emails letting her know when new things are in stock or when new items have become available, as she visits the site a lot and has probably seen most existing stock.
These highly personalized emails are much more likely to gain conversions than generic emails or no emails at all. After all, they're just using the information you have on your customers to offer them better details.
Segment based on spending history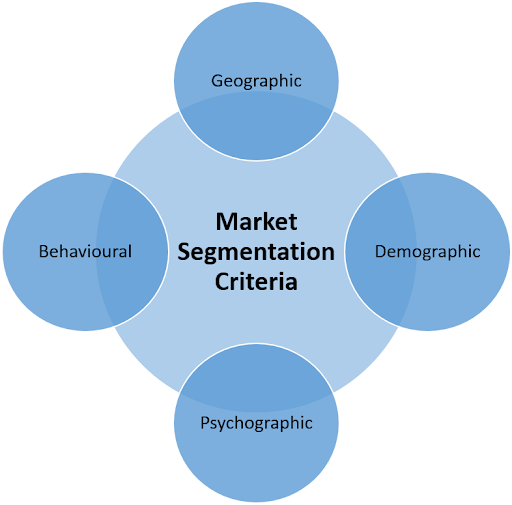 As well as having divided customers into several types according to their usage of your ecommerce website, artificial intelligence can also segment your customers by their spending history. Using a CRM system for market segmentation is one of the most valuable strategies. It works for you in two ways.
Offer grading
If a customer spends $10 on average per purchase and has made five purchases this year, you probably don't want to send them offers for $250 products. It's only logical that you want to market products that people can actually afford and are in their price range – but without data collection that would be impossible, and without AI it would be impractical.
Benchmarks
You can offer rewards for customers based on their benchmarks – when they've spent a certain amount of money on your shop or have been a customer for a certain amount of time. These would be good situations to offer advantage or loyalty programmes, especially if they're generous, or offer discounts or offers for customers perceived as being loyal.
Automation as a service
Marketing is like anything else in an enterprise – it needs investment, knowledge, and support to grow and to work. The field of Software as a Service (SaaS) is steadily growing and offers businesses lots of advantages – namely, lower capital expenditures, better customer service, and free trials.
Luckily there are also Marketing-Automation-as-a-Service (MAaaS) solutions out there. You could consider one of these to begin with, as the startup costs will be less and you can terminate the service more easily if you find a better competitor or if you decide you want to make it work in-house instead.
Either way, email marketing is a great return on investment: and by applying some artificial intelligence techniques to personalize it, it can become even greater.



Guest Author Bio: Elea Andrea Almazora- RingCentral US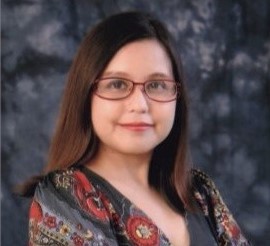 Elea is the SEO Content Optimization manager for RingCentral, the leader in global enterprise communication and collaboration solutions on the cloud. She has more than a decade's worth of experience in on-page optimization, editorial production, and digital publishing. She spends her free time learning new things.