How Marketers are Bridging The Gap Between Mobile Traffic and Mobile Sales
24/02/2021
11469
0

This post is also available in:




eCommerce rates may be rising across desktop and mobile alike, but despite mobile traffic experiencing growth, sales haven't followed suit. How can marketers help to bridge the gap between mobile traffic and mobile sales?
Data from Adobe Analytics indicates that 60% of online shopping visits come from mobile, however, only 40% of purchases are made in the same manner. The gap between traffic and sales shows that there's still plenty of work to do in building consumer confidence in spending money via smartphones.
Although intuitive apps and AMP help to facilitate high quality mobile checkout processes for users, the customer journey is still notably different. In order to bridge the gap in conversion rates on desktop compared to that of mobile, retailers and marketers need to understand these distinctions and target their marketing accordingly.
---
Concerns at The Checkout
So, what's causing the disconnect between mobile browsing and mobile sales? The rise of smartphones punctuated the past decade as more consumers got their hands on technology that enabled them to make purchases effortlessly while on-the-go.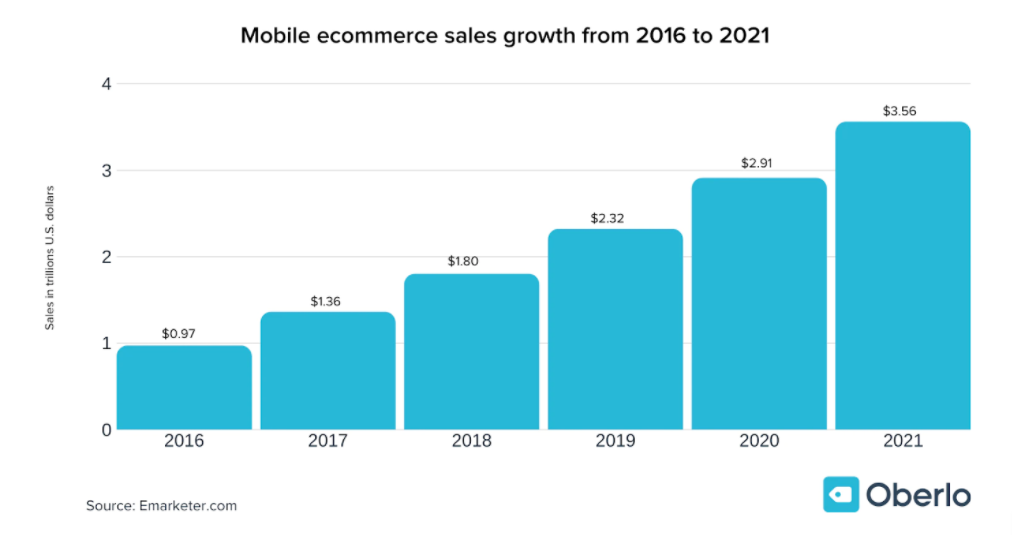 The chart above shows that mobile eCommerce sales have been consistently growing over the past five years, but despite this, a significant gap between browsing and conversions remain.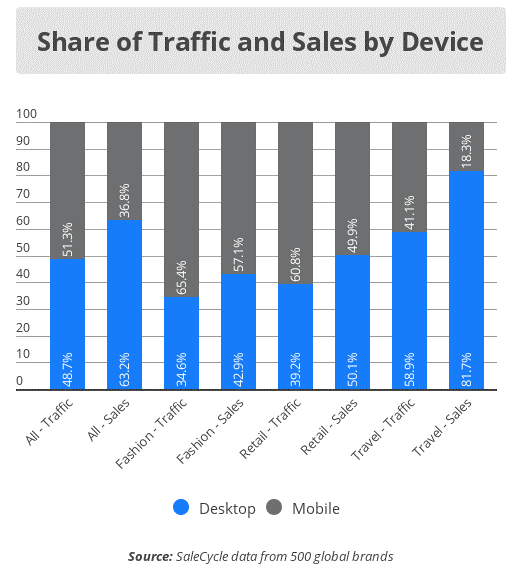 The above breakdown of various areas of eCommerce from SaleCycle shows a similar trend where more customers use mobile more to browse, but desktop more to purchase. Let's take a look at the possible reasons why this is the case.
One significant reason may be purely navigational. When following up on interest and making a purchase, customers may find it easier to navigate around a site and view images on a bigger screen, and so they switch to desktop when actually completing a purchase.
As the breakdown above also shows, there's a strong trend towards complex purchases such as travel on desktop. Because of the multiple stages and expenses associated with travel purchases, just 18% of bookings are completed on mobile.
One key issue appears to come down to the checkout process. The average mobile 'Add to Cart' rate is 10.4%, whereas on desktop this figure is 12.9% – indicating that people are adding items to their cart at relatively similar rates. Despite this, mobile traffic-to-conversion rates stand at around 2.25%, more than half of its desktop counterpart which weighs in at 4.81%.
These figures indicate that more shoppers are abandoning their carts on mobile compared to desktop. While there are clear signs that eCommerce conducted on mobile devices is set to rise over the coming years, there are still plenty of things that businesses can do to improve their chances of welcoming conversions from smartphone users.
---
Simplify Your Checkout Process
Businesses should be looking to address the disparity between items added to cart and purchased on mobile. This invariably requires reviewing how you've created your checkout process.
One of the most useful additions to make to your checkout process is to offer a guest checkout option for users. While removing the requirement of registering before making a purchase can shorten up your mailing lists, it's important to respect the time of your customers.
Remember that some customers will simply be looking to buy socks or a new smartphone charger without having to fill out three pages of information.

Here, we can see that some of the key reasons for cart abandonment reference the complicated process of actually checking out. While the notion of removing the requirement of registering to make a purchase might seem a little rash, it may be worth testing this method for a short period of time to see how more conversions and fewer registrations may affect your cash flow and customer retention efforts.Keep in mind that a fast checkout process won't mean much if your fulfillment side is slow. If we look at essential cosmetics fulfillment trends, for example, we notice that buyers want automated systems for a faster ordering process. This gets your goods into the hands of your customers much faster.
---
Create Mobile Campaigns
One of the most effective ways businesses can address the gap between mobile traffic and mobile sales, is to incentivize smartphone purchases.
While this approach may seem somewhat limiting, it can go some way in helping recurring customers to overcome their jitters surrounding the purchasing process online. Look to create sales that are tailored to smartphone apps or mobile websites.
Above, we can see an example of an incentivized mobile sale that's designed to encourage more downloads of a company's app while enabling more users to feel emboldened enough to carry out a purchase on their device.
This approach doesn't have to be limited to businesses that have developed an app, either, with some companies opting to create campaigns that only show on their respective mobile sites, displaying a special discount code for customers to use while checking out.
By incentivizing the checkout process for your business, you're not only ensuring that more users make purchases on your apps and mobile stores in the short term, but it could also build consumer confidence in making more mobile purchases into the future.
---
Generate a Clear CTA for Mobile
It's also vital that you ensure you equip your mobile pages with a clear call-to-action for your traffic to see. The best CTAs will relate strongly to the content that your visitors will be viewing or reading on the same page, and they will be designed to cause them to take action.
Your CTA should also showcase the benefits available to someone if they do act affirmatively on the call-to-action.
You can craft the message behind your mobile site or in-app CTA to suit your business model and target audience. It may be worth considering tapping into visitor FOMO (fear of missing out) to encourage faster actions. You can do this by adding time-sensitive phrasing like 'limited time offer', 'available for the first 100…', 'offer ends at midnight…', 'don't miss out', 'limited supplies', 'while stocks last' and 'act fast'.
Adding a call-to-action that instills a sense of urgency is a strong tactic in aiding the high volume of mobile users to snap out of their idle browsing and act on their interest. This can help to prompt more purchases while they're on mobile, but it's important to find the right tone to suit the customers that you're looking to attract.
---
Trial and Improvement
In some respects, mobile devices don't get the credit when we determine the conversion rates we get from them. If customers use them to research before buying on another device or in a brick and mortar store, theoretically, the decision to convert would likely have come from mobile browsing.
Sadly, most analytics aren't yet at the point where it's possible to effectively track prospects on cross-platform conversion paths. However, you can use tracking platforms – like a Google forwarding phone number or a coupon or discount code to help enable better tracking from where specific customers came.
Furthermore, you can fine-tune your mobile sales funnels with analytics engines like Google Analytics and Finteza. Both engines are examples of platforms that can pinpoint precisely where cart abandonment occurs with mobile users – helping businesses to take a look at where the sticking points are and revising their approach to become more appealing to visitors on smartphones.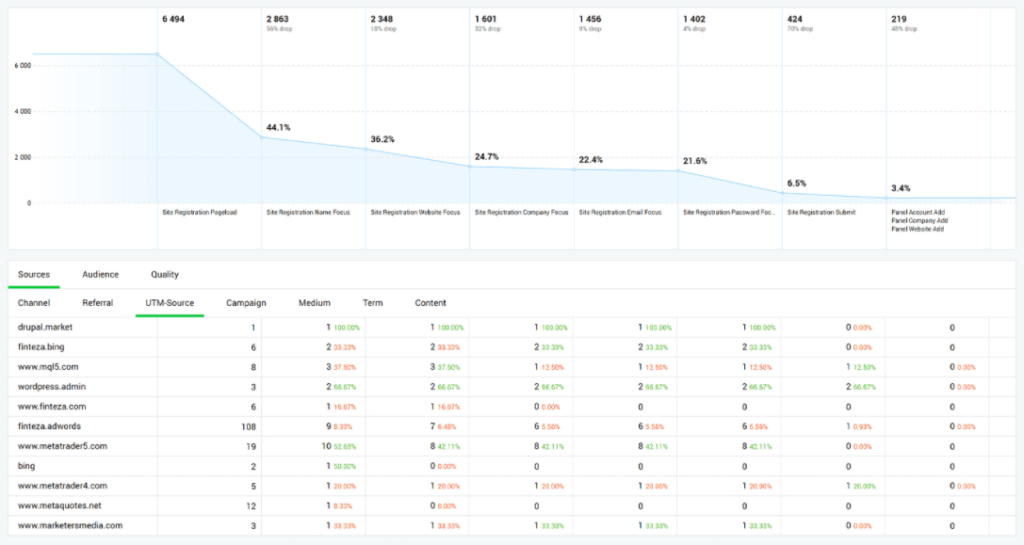 Although it can be difficult to analyze the customers' journeys across different devices, analytics can certainly leverage a greater deal of understanding of how users interact with mobile websites and the navigation that occurs when they arrive on your site.
With mobile eCommerce sales set to continue to rise over the coming years, it's highly beneficial for companies to look into ways they can close the gap between traffic and conversions faster to ensure that they enjoy this growth from a strong starting point.
The eCommerce landscape is going mobile, and the businesses that adapt to this shift fastest will reap the benefits.
Guest Author Bio:
Dmytro Spilka is a CEO at Solvid, a creative content creation agency based in London. His work has been published in Shopify, WordStream, Entrepreneur, BuzzSumo, Campaign Monitor and Tech Radar.