April Newsletter – Staying Safe and Compliant Through Lockdown Recovery
30/04/2020
697
0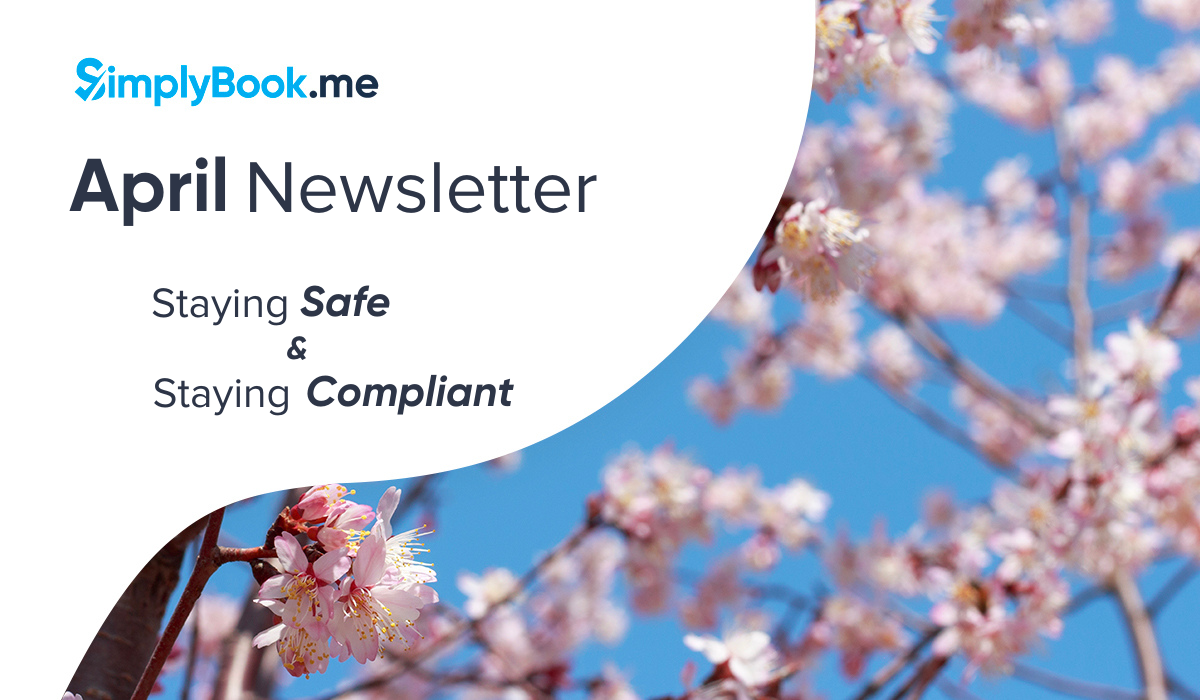 This post is also available in:




It's that time again when we let you know everything that has been happening with us over the last month – Welcome to the April Newsletter! It's been a weird month. We've all been working from home – although just as effectively. And many of you have been looking at original ways to make this system work for your business.
Rather than dwelling on the economic limbo caused by a nasty viral outbreak, let's see what our amazing and motivated teams have come up with throughout April.
What's Hot in April – Taking SimplyBook.me further
While we have focused much of our collective resources on ways to make managing coronavirus lockdown manageable, we've also completed some other projects that were in the pipeline. Ready to check out what we've got for you?
Tickets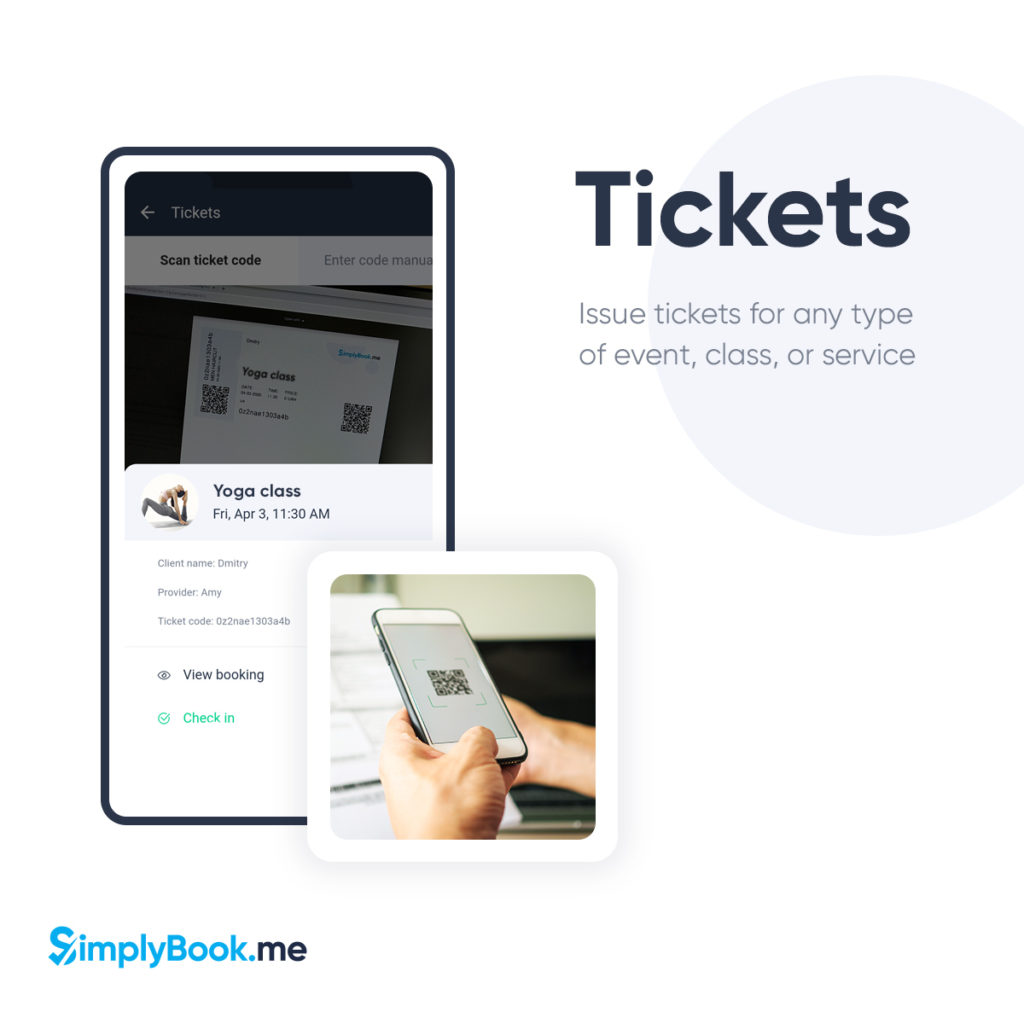 Get your tickets here! Whether you want to implement a straightforward way to restrict entry for limited space, validate client attendance, or simplify your ticketing process, this extra feature is definitely for you.
To whichever event or service you want to allocate tickets, it's an easy process. With a pdf ticket emailed to the client, they can either print out a physical copy or show it on a mobile screen. Validating tickets on attendance is also easy. You can use the mobile admin app to scan the QR codes, or you can manually input the ticket code to the SimplyBook.me admin interface.
Every plan has an allocation of 300 tickets as standard, but more are available in bundles if you require extras.
With a Premium SimplyBook.me subscription you can even change the design of your tickets – if you have some technical wizardry in CSS coding within your grasp.
Grocery Stores, Public Offices, Care Homes & More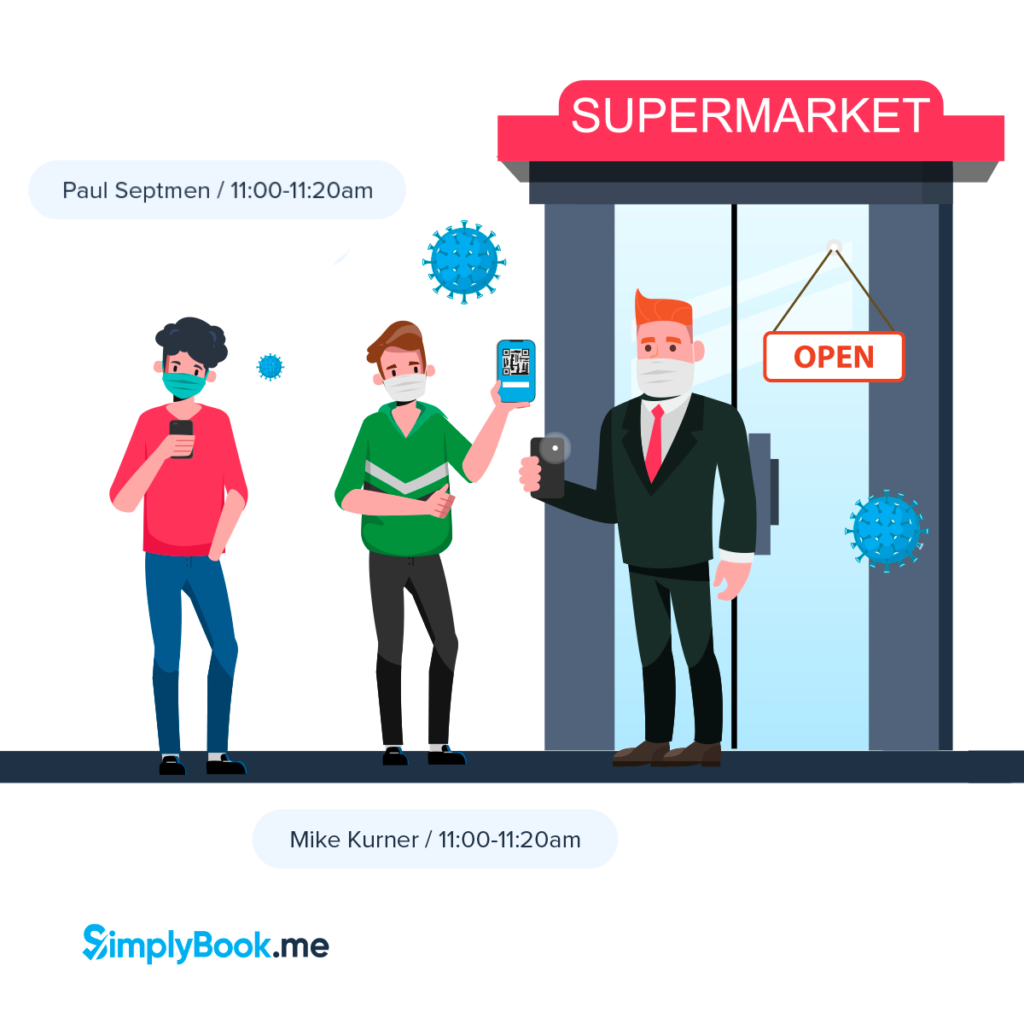 With a few tweaks and a little of our support team's help, limiting visitor numbers to grocery stores, public offices, and anywhere else that has to maintain a reduced capacity for customers has been made easy and efficient to organise.
The SimplyBook.me solution is so flexible and intuitive that allowing shoppers and other visitors the ability to book a slot for doing their shopping, making a trip to a public office, or visiting relatives is simple and socially responsible. It also allows businesses to maintain active social distancing and keep their premises safe and clean for both customers and staff.
Another bonus has seen that customer service and support are far better when the store has a reduced volume of customers. Additionally, better staff and resource allocation make for improved organisation.
Improvements & Enhancements
Calendars – Introducing a new mini calendar that displays at the top for easy referencing, which will also expand for more detailed examination. Also, a new weekly calendar view.
Tickets – If you use SMS to update and confirm bookings with your clients, you'll be happy to hear that a "ticket link" will be added to SMS notifications
Coming Up Next Month – Hotter than ever!
We have so much coming up I barely know where to start!
Video Calling – The Way Forward
We already have integration with Gruveo, which allows you to build a video call scheduling system. However, many of you want something else. With that in mind, we have been developing similar integrations with both Zoom and MS Teams.
If you're still in lockdown measures and can't see clients in person, or even if you have found video calling to work better for your business, choosing the right video calling platform for your needs is essential. That's why we want to give you options.
Zoom integration is almost complete and is presently in the testing phase, while MS Teams integration is still in development. Keep an eye out or these two video conferencing platforms coming to a SimplyBook.me system for you.
Video Tutorial Library
We know that everyone learns differently. It's okay to have written instructions with images or blog posts about how to do something, but some people need to walk through the process live.
So, we're combining all of our tutorial videos and making sure you have access links to them from the relevant sections of the admin interface.
Having trouble with the Calendar Layout? Simply click the video tutorial link.
Directory Widget – Multi-Locational Enterprises
For enterprise clients with multiple locations, and companies at that, we have a directory widget in development that our clients can insert on their website. When our clients register their companies, they can do so with a particular tag that will identify them as a searchable business location on the map.
We're currently testing this development with one of our enterprise clients. We hope that our later developments will include customised skins and individual designs on request.
MS Azure – Single Sign-On (SSO)
IF you know MS Azure, you know that it allows users to manage their sign-on to multiple accounts from a single point using Oauth.
It's useful for larger companies because it enables an admin to create account set-up and login for all employees. Still, they only have to remember their MS Azure login details. At the same time, accounts can be managed from a single point, too, within Azure.
Calendar Notes – Block out ad hoc times
We already have the Calendar Notes, but soon you'll be able to create a note in the calendar which will also block out time on the schedule. Rather than creating an appointment or break-time on your schedule, to which you can then add notes, you will be able to create the records and block out the time on the calendar in one go. Saving time, and time is money, as the saying goes.
Keep in touch and keep watching for more
Every month we bring more and more improvements and new features to our system. Keep up to date with new developments, tips, and advice through our blog.