Buying Your Domain Name – What you need to know
03/09/2019
2217
5
This post is also available in:



If you are considering creating a business website or applying a custom domain to a third-party business platform (Custom Domain on SimplyBook.me), you will need to buy a domain name. While registering your domain name has become a simple and straightforward task in recent years, you need to know what you are doing.
Last week I was talking about the SimplyBook.me Custom Domain feature, but you can't do that until you have found and purchased your perfect domain name. So let's go!
What you need before you begin
You need a website name and a payment method, usually credit/debit card or PayPal (although there are some out there that are accepting cryptocurrencies too)
What do you want your domain name to be? 
If you want it to reflect your business accurately, you will probably choose something that contains your business name or what your company does. 
                         www.curlupanddye.com (trust me, this one is taken)
What if that isn't available?
Have a few alternative options lined up in case your first choice is either unavailable or too expensive (check out cybersquatting) 
   www.curl-upanddye.
   www.curlupndye.
Alternatively, think about the last part of the web address. Dotcom (.com) is one of the most known and searched top-level domains (TLD), but as the .com namespace begins to reach saturation point, it is worth looking at alternatives. 
   www.curl-upanddye.co.uk
   www.curl-upanddye.me
For vanities sake, if you're running a tech service, you can use .tech or .technology. The numbers and varieties of these extensions are astounding, and there is something for every industry. 
Some TLDs are reserved; .org for non-profits, .edu for educational institutions, .gov for government websites, and so on.
Find A Trustworthy Domain Registrar
There are dozens of them. The Internet Corporation for Assigned Names and Numbers (ICANN) has a list of trusted domain registrars. However, I'll list few with whom I've had good experiences.
NameCheap – Namecheap is a great place to buy a domain name; I use it. The purchase of the domain is a reasonable price, and they don't change goal posts and renewal terms. It also lists a massive collection of TLDs that you can search by industry or genre – there's something for every business type. If you want a website as well as a custom name for your booking site, they do also offer web hosting.
Domain.com  – Another well-known name that offers an extensive collection of TLDs, although not as many as Namecheap. Domain.com does have the added benefits of also providing web hosting, website building and design.
Bluehost – Bluehost is another popular place to purchase a domain. If you want to secure everything to set up a website, with hosting, support, WordPress 1-click installer, and site builder, this is the place to get started. You also have the benefit of getting your domain registration free, if you sign up for hosting with them.
Find your domain name…
You already have an idea of what you want your domain name to be; now you have to make sure you can have it. 
For ease, I'm using Namecheap because I find it the easiest to use and navigate. 
There will be a search box for searching your preferred web address, Namecheap happens to have it on their home page.

When you get the results back, you will be able to see;
if your preferred domain name is available

how much it will cost to register that domain.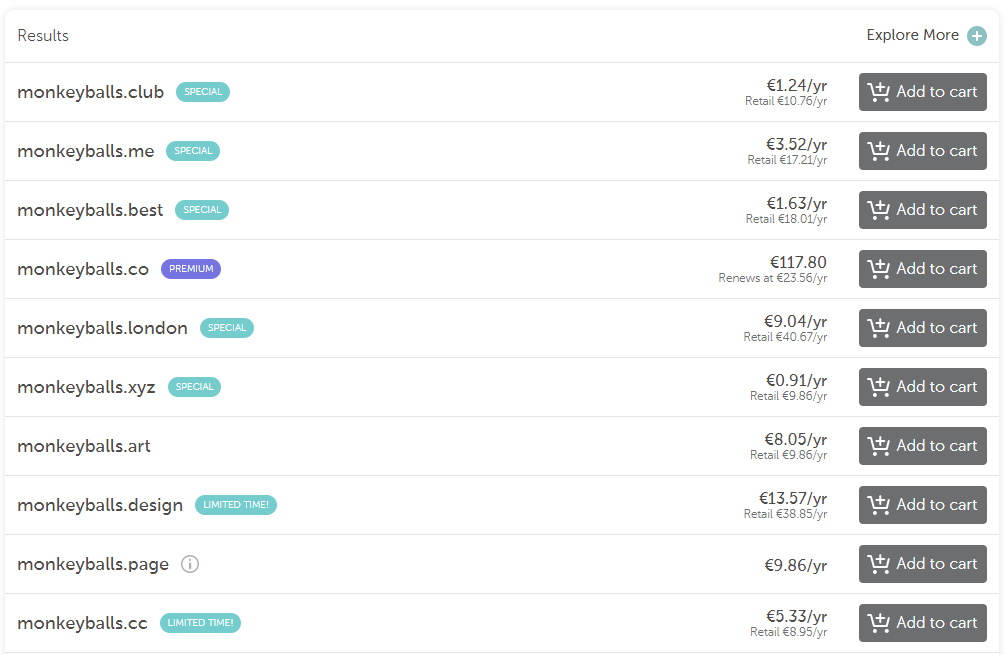 It's simple enough, and the initial results will bring back the most popular TLDs. However, if a vanity suffix is something that you think will enhance your website – go for it! And search by genre or industry to find just the right one.

Buying Your Domain Name
Once you have decided on your perfect domain name, making sure it is available, and that it won't break the bank. Its time to buy your little slice of Internet real estate. 
Considering that you are buying a domain name for your business, it is worth finding a domain registrar with whom you can purchase an extended license. Most domain registrars offer a minimum one year license with the option to renew automatically. I like that NameCheap gives me between two and three months notice for renewal so that I don't forget or let a change in payment details go unnoticed. 
Domain.com allows you to purchase up to a 5-year license, and some go even longer. Most allow for a ten-year license.  
Time to get ready to buy your domain name
Choose your domain and add it to your cart.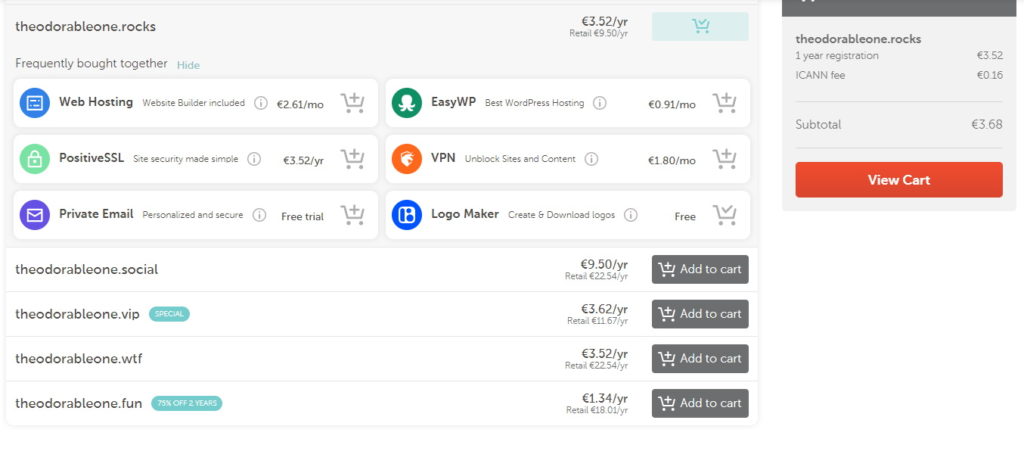 Check your cart and what is in there – you don't want any surprises added as part of a standard "package". One of the benefits to NameCheap is the privacy measure, WhoisGuard, that is free for as long as you remain registered with them. Many other registrars attach the privacy feature as an add-on, which increases your costs significantly.
On NameCheap, the shopping cart is on the right-hand side of the screen. Click view cart, and you can begin the purchasing process.
This is where you can set up the conditions of your domain name purchase. Choose between 1 and 10 years of registration, set it to auto-renew. Enable and auto-renew WhoisGuard (it's free, why wouldn't you?) Enable the premium DNS and set that to auto-renew (not saying you should, but you can).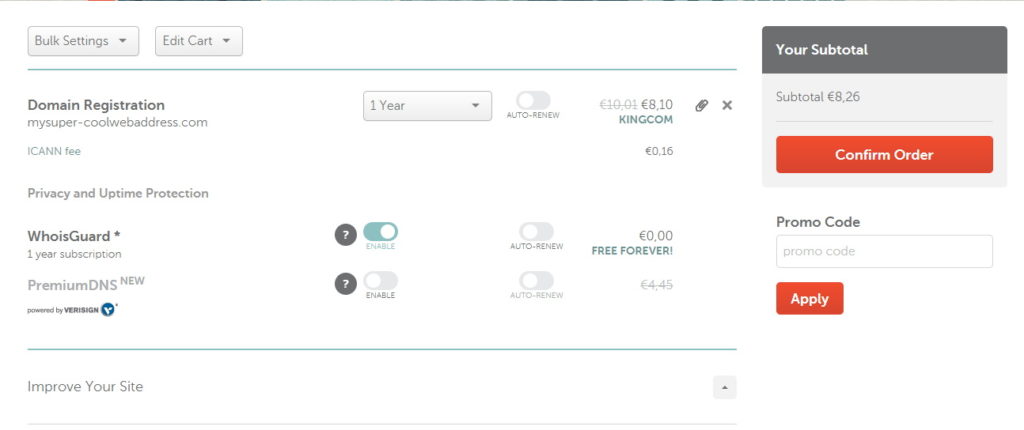 If you haven't already, you will now need to register an account with your domain registrar. You need an account because there need to be contact details for this domain. Complete your details and click to continue.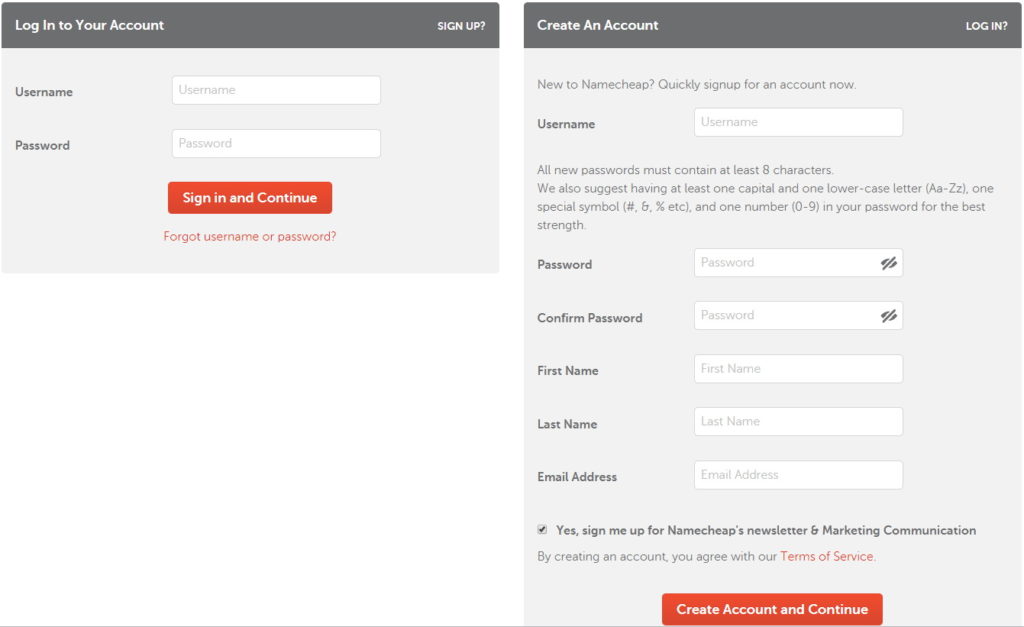 And then complete more details for your account contact information.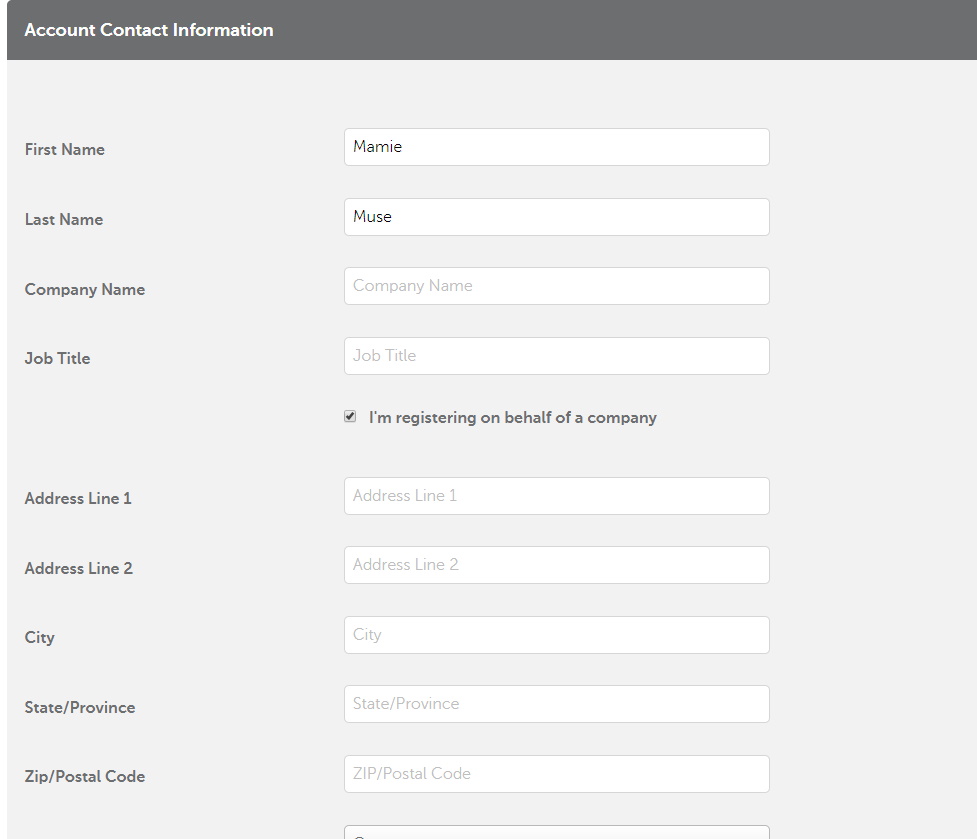 Now complete the contact details for WhoisGuard. These details will not be public, but they will ensure that the correct person is contacted in case of a problem.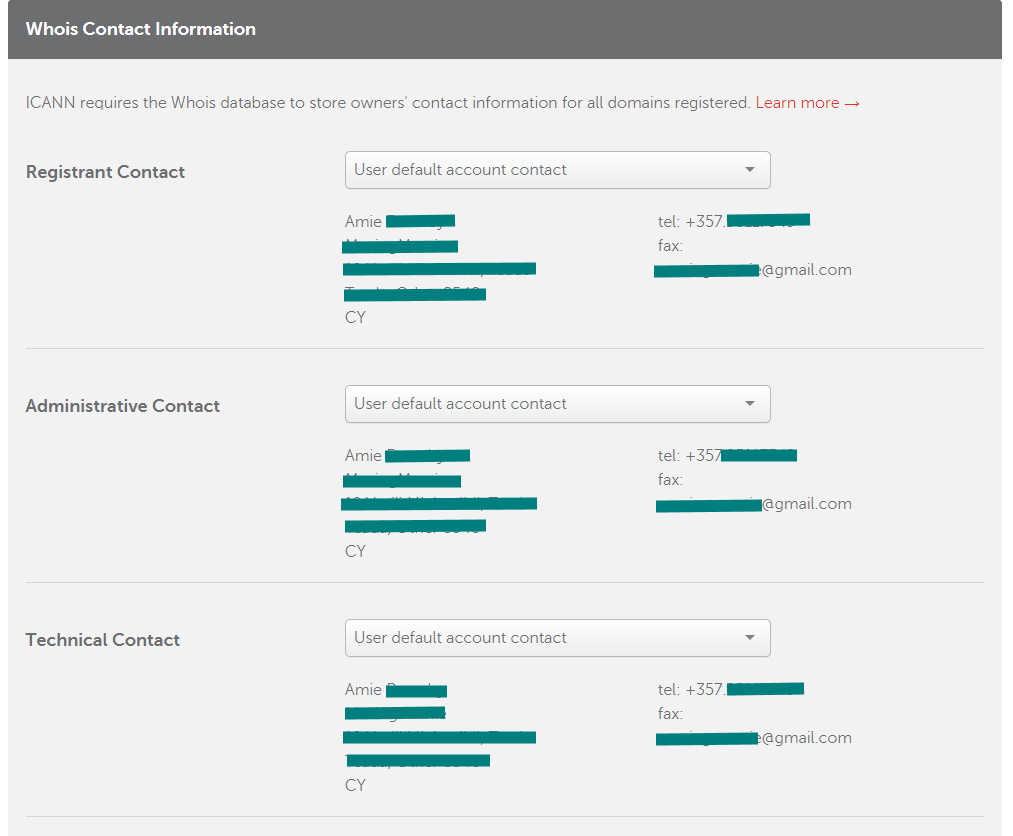 Now complete your payment details. Credit/debit card, PayPal, or account transfer.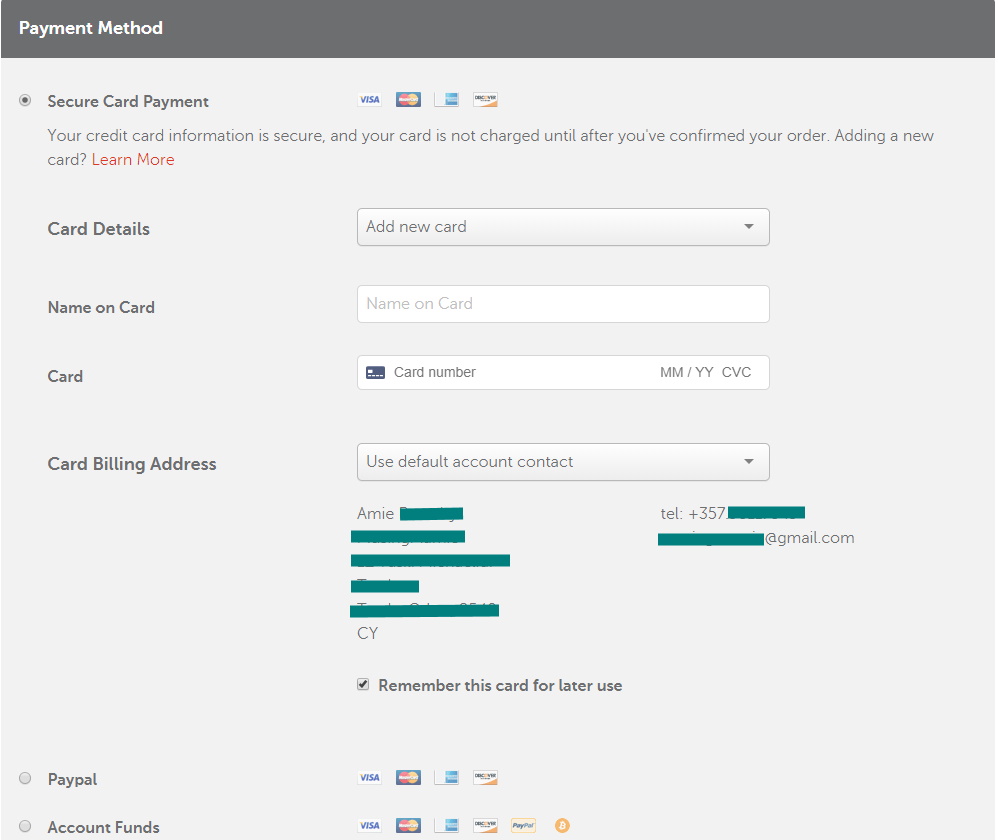 *If you have opted for a longterm registration and you use a credit or debit card, you will probably have to update the details before it is time for renewal.
What Happens Now?
Well, this is where you can set up your website, or you assign your fabulous new domain name to your business platform.
If you intend to set up a website, you will need someone to host it. The number of places that provide hosting are as many and varied as those providing domains, probably more so. If you check out this blog post, it has good coverage of different hosting companies and their benefits, and the different types of hosting.
If you have bought your domain to add to a third-party, you will need to make adjustments to where your domain name will take people. 
Giving Your Booking Site a Custom URL
We can't tell you about other systems, but we can tell you about how to get your SimplyBook.me site onto your brand-new custom domain. 
You will need to sign in to your account with the registrar from which you bought your domain. From here, you will be able to access the domain management dashboard. 
In the domain management dashboard, you will be able to change the A record which will allow your shiny new domain to point to your booking page.

Now log in to your SimplyBook.me account, Custom Features Custom Domain, Settings.

Here, you will be given the IP address to insert into your domain management dashboard, which will direct people looking for your web address to the booking site. 
There are more detailed instructions available on our Help Centre. Alternatively, you can also ask for help through our live chat.
There you go! You now own a custom domain for your website or your booking page.