The 5 Best Appointment Scheduling Apps 2023
01/04/2023
345
0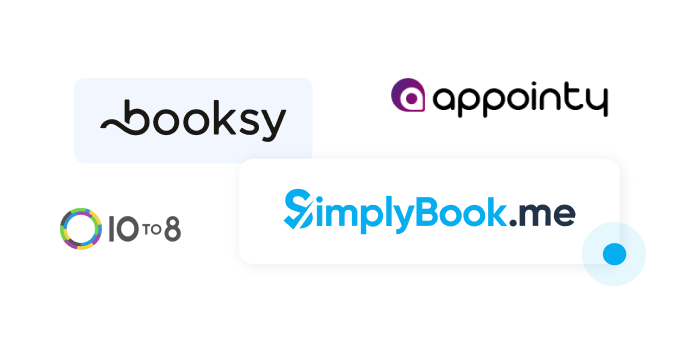 This post is also available in:




People in the service business are usually in it for the passion of the service they provide, not for the business side of how to run a service business efficiently. So that is where they want to rely on a business partner that takes care of that headache for them.
Appointment scheduling apps play a big role in streamlining business operations, enabling seamless communication between customers and service providers. We have checked out the top five appointment scheduling apps available on the market and here below is a summary of their pros and cons to help you make an informed decision for your business. Let's take a look!
Pros:
Beautiful and fully customisable booking website but if you already have a website you can use their customisable booking widgets to insert to your website.
User-friendly interface: SimplyBook.me's platform is easy to navigate, with a clean and intuitive layout, making it suitable for non-tech users.
Customisable features: This app allows for extensive customisation, enabling you to tailor the platform to your unique business needs.
Integration capabilities: SimplyBook.me integrates with a variety of popular tools, including Google Calendar, Microsoft Outlook, and Zoom.
Easy to accept online and onsite payments
Booking Buttons on Facebook, Instagram and Google Business Profile.
Admin App to manage your business on the go and your own branded Client App to offer your clients.
Amazing customer support, online LIVE support 24h during the working week
Cons:
Limited free version: The free version of SimplyBook.me offers limited functionality, which might not be sufficient for businesses looking for a comprehensive solution.
Setmore Appointment Scheduling App
Pros:
Straightforward setup: Setmore.com's straightforward setup process allows you to get up and running in no time.
Integration with popular platforms: This app offers integration with popular platforms such as Google, Facebook, and Instagram.
SMS reminders: Setmore.com's SMS reminder feature helps reduce no-shows and last-minute cancellations.
Affordable pricing: The appointment scheduling app from Setmore.com offers competitive pricing, making it an attractive option for small businesses.
Cons:
Limited customisation: Setmore.com's customisation options are not as extensive as some of its competitors, potentially restricting its usefulness for certain businesses.
Customer support: Some users have reported delays in customer support response times, which can be frustrating if you require immediate assistance.
Appointy Scheduling
Pros:
Feature-rich: Appointy.com is a scheduling app that boasts an impressive array of features, including customisable booking widgets, group bookings, and in-built marketing tools.
Scalability: This app is suitable for businesses of all sizes, from solo entrepreneurs to large enterprises.
Integration with social media: Appointy.com integrates with social media platforms, enabling seamless appointment booking through Facebook and Instagram.
Cons:
Learning curve: Some users may find the platform slightly complex at first, requiring a bit of time to master.
Pricing: Appointy.com's pricing can be a barrier for small businesses on tight budgets.
10to8 Booking System
Pros:
Free plan available: 10to8.com offers a free plan with basic features, making it accessible for small businesses or those just starting out.
Customisable reminders: This app allows for customisable email and SMS reminders, improving client communication and reducing no-shows.
GDPR compliance: 10to8.com is GDPR compliant, ensuring that your customer data is secure and in line with data protection regulations.
Cons:
Limited integrations: 10to8.com's integration options are somewhat limited compared to other scheduling apps on the market.
Occasional glitches: Some users have reported occasional glitches and system errors, which can be frustrating and time-consuming.
Booksy Beauty Booking System
Pros:
Designed for service-based businesses: Booksy.com is specifically designed to cater to service-based businesses, such as hairdressers, personal trainers, and beauty salons.
Mobile app: Booksy.com offers a dedicated mobile app for both iOS and Android, allowing for easy management of appointments on the go.
Inventory management: This app includes inventory management features, which can be particularly useful for businesses that sell products in addition to their services.
Marketing tools: Booksy.com provides built-in marketing tools, such as email campaigns and promotional offers, to help you grow your client base.
Cons:
Limited customisation: Like Setmore.com, Booksy.com's customisation options are somewhat limited compared to other scheduling apps.
Subscription-based pricing: Booksy.com's pricing is subscription-based, which may not be suitable for businesses with fluctuating needs or budgets.
Conclusion
After looking at the pros and cons of these top five appointment scheduling apps, we, in our humble opinion, believe that SimplyBook.me is the best appointment scheduling app for small and medium-sized service businesses. Its user-friendly interface, offers customisable features, and extensive integration capabilities make it a versatile and powerful tool for businesses of all sizes. Furthermore, its multilingual support ensures that it caters to a wide range of clients worldwide.
While the other scheduling apps mentioned in this article have their own merits, SimplyBook.me's combination of functionality and ease of use gives it the edge over its competitors. However, it's essential to consider the unique needs and budget of your business when selecting an appointment scheduling app. We recommend exploring each of the above mentioned platforms to further determine which one will best serve your business needs.