Appointment Booking from Email Campaigns – Dyspatch Integration with SimplyBook.me
14/04/2022
844
0

This post is also available in:




SimplyBook.me is a SaaS company offering online booking software as a service to thousands of service businesses and more worldwide. However, even though we are a standalone product, it doesn't mean other companies and service providers can't use our product to boost their functionality and enhance ours. Dyspatch.io has done precisely that with its integration with SimplyBook.me, enabling businesses to facilitate appointment booking from email campaigns.
Matt Harris, CEO and Founder of Dyspatch, created a solution for no-code emails that fixed so many problems he encountered while creating email templates, optimising for minimal friction and freeing up marketers to be more proactive in their approach. Beyond email template creation, Dyspatch is one of the leading solutions for email management and design on the market today. Moreover, they haven't stopped there; Dyspatch is on the cutting edge of what companies demand from their messaging. They're leading the way with interactive apps within their "no-coding-required" email template structures.
And that's where SimplyBook.me comes in.
Booking from Email – Interactive calendar in your inbox
Can you imagine being able to send your booking site functionality in your "appointment due" reminders? Everyone from dentists and doctors to hair and nail salons could use the email booking function to ensure lapsed, and due clients can book their appointment directly from their inbox.
Doesn't it look amazing?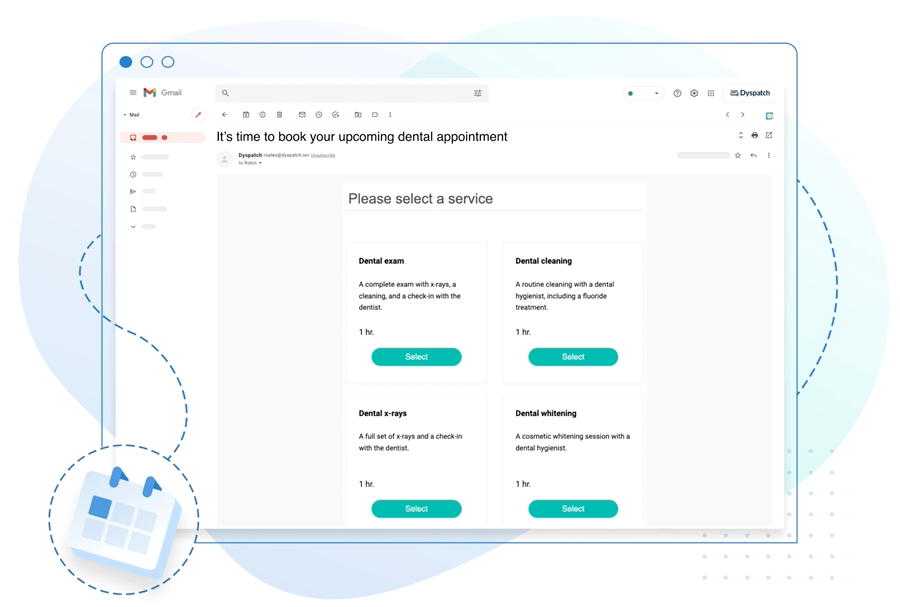 Incorporating Dyspatch's genius in-email apps with SimplyBook.me, your customers and prospects can make an appointment booking from their email. Just like that (*snaps fingers*)!
Everyone knows that it all comes down to clicks and navigation time. The more clicks between a reminder or a search page and the final booking mean more chances for the client to back out, lose patience, or run out of time.
Marketing Simplicity
Most companies do not manually write their emails to every customer. Most certainly not when marketing campaigns send different messages to customers at differing journey points.
Many people use email service providers (ESPs) to send their triggered emails.
Email marketing has always been the best option for the highest ROI. Moreover, Dyspatch clients have already begun to see an increase in return by shifting to interactive in-email apps from the traditional email-browser booking experience.
The Advantages of SimplyBook.me
Simplybook.me is one of the world's leading online booking systems, providing easy, secure, and scalable appointment booking and business management tools. Bringing businesses and clients together by enabling booking and payment online with ease, wherever or whenever they want to book.
With this Dyspatch integration, SimplyBook.me users can now offer this innovative solution to their clients from within their email campaigns.
"We are super excited to hear that Dyspatch has integrated the SimplyBook.me online booking system to their email solution. It makes perfect sense for Dyspatch's users to offer their clients to book their services right from within the email. Dyspatch and SimplyBook.me are client oriented companies, focusing on simplifying the life of their users, so this integration is certainly a step in that direction."

— Rut Steinsen, CEO at SimplyBook.me
Implementing the SimplyBook.me In-email App
It might sound obvious, but you need to be a Dyspatch and SimplyBook.me customer to use this incredible innovation. However, that is no hardship considering we are both leaders in our fields.
In keeping with all the apps in Dyspatch's collection, the bywords are ease of use, installation, and security. And this integration of bookings from email is yet another to hit the benchmark.
Once you've downloaded the app to your Dyspatch account, merely click and connect it with your SimplyBook.me account. Then, drag-and-drop the app into your email templates in true "easy to use" style—no coding required to serve an on-brand experience.
Continuing to Integrate
It appears this might only be the beginning of this integration partnership. With all of the additional custom features you can implement with SimplyBook.me, there are many more options available for email integration, such as coupons and gift cards, loyalty points, waiting lists, product sales and more. And Dyspatch intends to launch to the in-email apps marketplace in the future. We're really looking forward to it.