Cartões de oferta e cupões personalizados – Crie o seu próprio
24/05/2023
120
0

This post is also available in:




Gift cards and coupons are not merely the province of the department store or high street retailer. Services are just as easily given as gifts, and if you are trying to promote offers and promotions, there is a lot to be said about creating promotional coupons. While we have always had the option for our users to distribute coupons and sell gift cards, our own templates have never been ideal for all users. So now you can make your own custom gift cards and coupons with a simple graphic editor.
Branding is Important
Continuing company branding through all communications and channels is essential to marketing and consistency, which clients need to maintain trust in your business.
While we tried to provide a neutral collection of templates, it is evident that we couldn't offer the perfect gift card and coupon types for all of our users. That would mean thousands of templates that would take forever to scroll through. No one has time for that.
Managing Your Gift Cards & Coupons
There are many aspects of managing your coupons and gift cards, and they are all accessible from the custom features page on your admin interface. For simplicity, you can search the interface for "Gift Cards" and go straight to the management page.

From here, you can Enable or Disable the Coupons & Gift Cards feature, manage the configuration of different versions of your gift cards and coupons, report on the usage, and create your perfect template that will continue your branding through to new clients and old.
Main Config and Notification Templates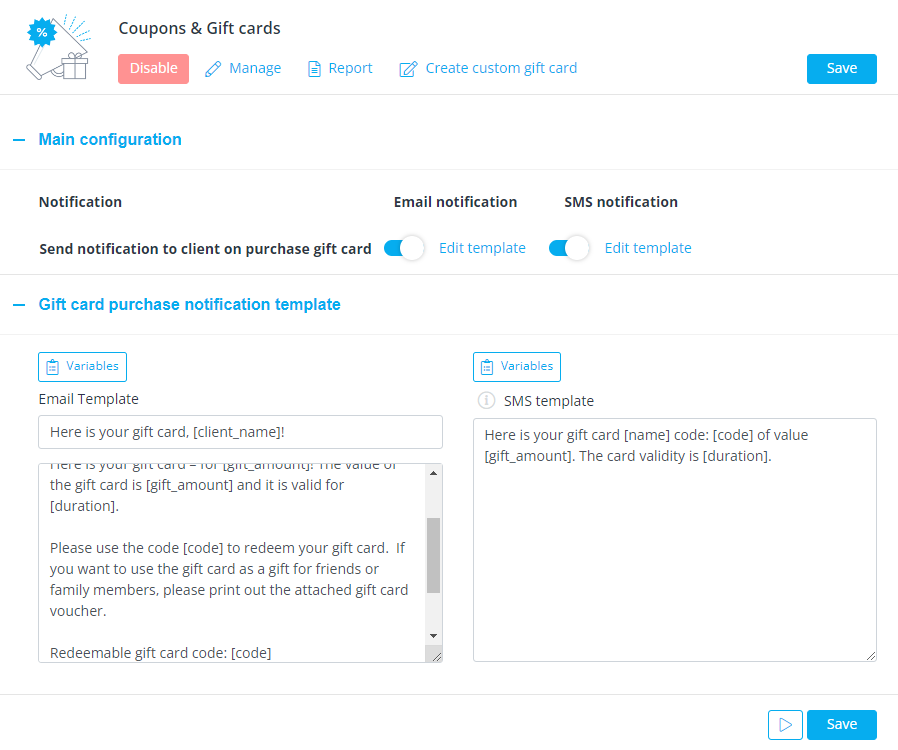 How will you notify your clients that they have received either a discount coupon or confirm they have purchased a gift card? Email is always good, and it costs nothing. However, to encourage clients to book with a discount coupon, you might want to up the ante with some SMS "urgency". People are more inclined to take timely action on an SMS than an email – especially if the email goes to a promotions, social or updates folder rather than the primary inbox.
Customise your messages with your own text that follows your brand guidelines and tone, and you can even ensure you have a gorgeous custom email design. You can choose appropriate variables to auto-fill from the booking/purchase records.
Manage Gift Cards & Coupons

Add, remove and edit all of your gift cards here in the manage section of the admin interface. Create gift card templates for birthdays, baptisms, bar mitzvahs and any other event that might attract a service-based gift. You can also create coupons you can issue to all of your clients (you can limit the number of uses for the same code).
How to Create Custom Gift Cards & Coupons
You can create a custom gift card or coupon in two ways, depending on how good your design skills are. Maybe you already have a template image you can upload, or you just need a helping hand.

Start from Nothing
You have cart blanche to create the perfect gift cards for every conceivable event, gift or discount. From a blank template, you can use the design widget on the right to create beautiful designs, upload brand-specific images and use variables from your booking system to populate fields.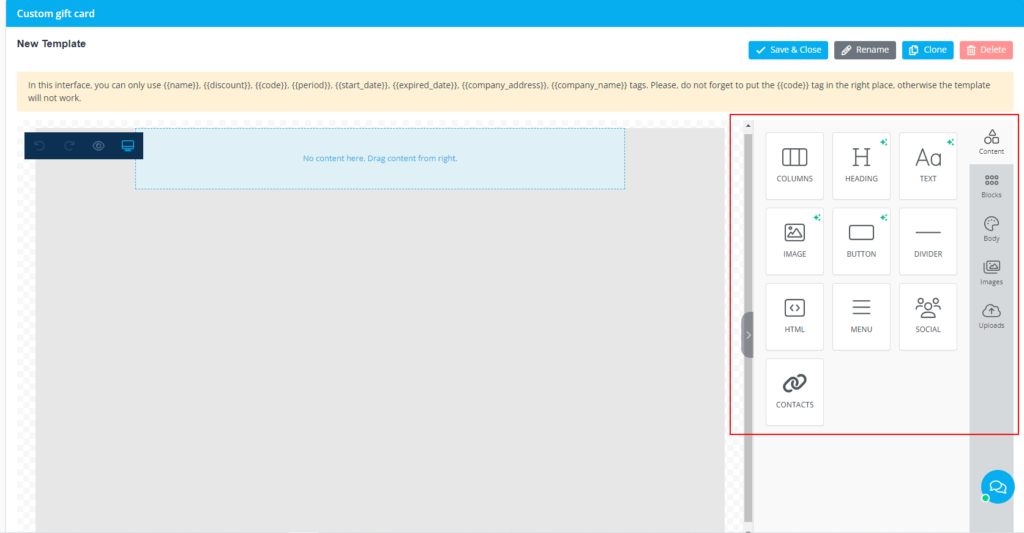 Use a Template
If you don't think your design skills are up to par, you can always edit an existing one. These already contain the most critical aspects of a discount or gift card
Gift amount
Company Name
voucher code for redemption
Contact information
You can add more text and images and change colours and fonts. By the time you are finished, it might look nothing like the examples, but you will be sure to include the essential parts that should be on your gift cards and vouchers.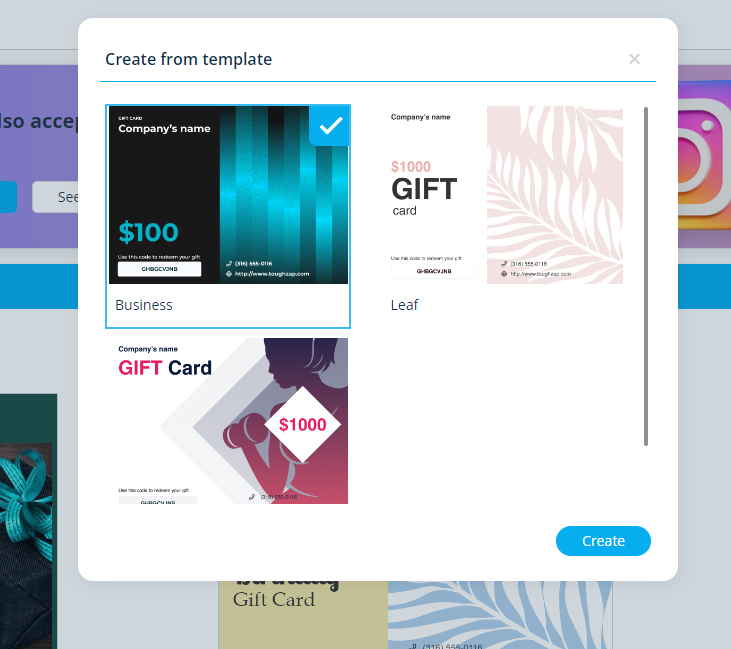 Once you've created and begun distributing your gift cards and vouchers, you can monitor their usage with the gift cards and coupons report.

In summary
Branding is so crucial to your consistent message to your clients and potential clientele. With this feature, your branding can stand out whether you're offering a seasonal discount or encouraging your clients to gift your services to new people.
Gift cards aren't just for people to spend money on things. More and more often, people appreciate the gift of experiences and services. So create your custom gift cards with your business branding in the forefront and make sure they remember you.
Did you know you can create custom email templates too?