9 caractéristiques d'un bon système de réservation de restaurant
14/03/2023
304
0
This post is also available in:




Consumers are spending more time online every day. Unfortunately, we can't supply our service and experience online in the restaurant industry. However, we can sell them through online table bookings. A restaurant reservation system is the best way to introduce user-friendly online booking for both customers and your team. 
What is a Restaurant Reservation System?
A restaurant reservation system is a specialized type of booking software. It simplifies the process of managing table bookings and waiting lists. Like other booking solutions, the most vital function is letting customers view a calendar and choose an appointment time that works best for them. 
In addition, restaurant booking systems can include many features, including real-time menus, booking reminders, targeted promotions, point of sale (POS) integrations, and many others. 
The Two Types of Restaurant Reservation Systems
There are two main types of reservation platforms for you to choose from. Each has its strengths and weaknesses.
Customer-Facing Reservation Systems
The first type of restaurant reservation system you'll likely face in the wild is based on a customer-facing model. These vendors typically supply the bookings for your restaurants. They have their own website and direct their online visitors to your businesses, almost like a marketplace. The vendor will handle confirmation emails, reminders, and payment processing. 
Customer-facing reservation systems streamline the booking process and widen your net. However, they will serve restaurant goers with their own branding and imagery at the forefront. They will handle all interactions, and the customer will walk away with the booking provider in mind.
These services charge you a commission for every booking. Think of it like a partnership or affiliate marketing. 
Operator-Facing Reservation Systems
The second primary type of reservation system focuses on restaurant operators. With an operator-facing system, you will only pull in customers from your active marketing channels. However, these restaurant reservation platforms allow for much more control and customization. 
With operator-facing reservation systems, you can get stuck into the finer details of things like booking rules and real-time table availability. They offer POS integrations for more personalized customer service and reporting with analytics. Restaurant-focused systems allow you to build a more customizable process with unique tools like WordPress automation and others.
Operator-facing systems typically charge you monthly or annually. You may pay extra for integrations or additional features, but otherwise, you know exactly what you spend each month.
The Benefits of Using a Restaurant Reservation System
Using a restaurant reservation system makes things convenient for your staff and customers. The following benefits back up this win-win situation:
Improved customer experience:
Booking online gives your customers greater flexibility with how, when, and where they make their reservations. It allows them 24/7 access to table availability on their smart devices and mobile phones—what's more convenient than that?
Better management:
Analytics and reporting help you identify peak dining hours. With more online bookings, you will have a clearer idea of optimal staffing levels while making weekly rotas.
Save your staff time:
Restaurants are a rapidly-changing environment. Things can go from time standing still to a stampede of customers in the blink of an eye. Meanwhile, your staff will be expected to monitor the phones for bookings and manage confusing waiting lists. With a restaurant reservation system, your team can relax and focus on more critical areas like customer service. 
Increased online presence:
An online booking system gives your website, social media, advertising partners, and other channels increased visibility. Instead of only creating brand awareness, your online presence will provide a streamlined process for potential customers to take action. 
Increased revenue:
Increased booking methods and convenience all add up to one thing: more bookings. And booking deposits and reminders reduce the likelihood of customer no-shows. 
Data analytics and reporting:
You can gain valuable insights from customer booking history and POS integrations. You will be more able to identify peak booking times, average party size, customer preferences, and your best-selling menu items. What it all adds up to is better-informed decision-making from management.  
---
If you're looking into how to get more restaurant reservations, consider offering targeted promotions to customers through your reservation system. This could include discounts, special menu items, or exclusive deals for frequent visitors. You can also use the data analytics and reporting tools available in some reservation systems to gain insights into customer preferences and behaviors, allowing you to tailor your promotions to specific groups of customers.
Furthermore, you can implement various marketing strategies to promote your restaurant to attract more customers and increase your revenue. For example, you can use social media platforms to showcase your menu, run targeted ads to reach new audiences, and offer special promotions through your reservation system. Check out some restaurant marketing tips to get started.
To maximize the potential of your restaurant reservation system, you can also consider partnering with a web development company to create a custom booking solution that fits your unique business needs.
9 Must-Have Features of any Good Restaurant Reservation System
Here are some of the most valuable features of an online booking system for restaurants.
1. Intuitive User Interface (UI)
Perhaps the most obvious (but also most important) feature is an easy-to-use interface. You can't expect to gain any benefits from a restaurant reservation system if no one can figure out how to use it. This starts from being available in browser-based and application forms.
The most significant factor in ease of use is the functionality of the booking calendar. This feature should be straightforward for customers and restaurant staff to use and manage.
2. Online Booking
Believe it or not, some restaurant reservation tools only allow you to add table bookings manually. Toss these legacy systems to the birds—they will become as extinct as the dodo as consumers increasingly flock to businesses that provide a convenient experience.
Image source: SimplyBook
The best platforms also help you meet compliance with the Americans with Disabilities Act (ADA). This includes using correct color contrast between text and backgrounds and being compatible with screen readers.
3. Pre-ordering
It might not seem like a biggie, but pre-ordering is a must-have feature of any good reservation tool. Firstly, it works similarly to an order management system for retail in that it helps your kitchen better manage its inventory. They will also be prepared ahead of service. (especially for large parties). 
Secondly, it allows customers in a rush to get in and out quickly. This is great for you because the faster a table turns over, the more customers you can fit into a service.
Pre-ordering also helps reduce customer no-shows. If they've paid for a meal in advance, they will do their best to make a booking at all costs (and be less likely to 'forget').
4. Customizable Push Notifications and Reminders
Speaking of forgetting, one of the problems with booking things far down the line is that it is easier for someone to place it out of their mind. A sound reservation system includes automated push notifications and reminders to ensure no one overlooks a booking.
Image sourced from SimplyBook
Many platforms allow customers to be contacted for reminders and announcements on their preferred channels. These include SMS texts, email reminders, and other platforms like WhatsApp. You can also use push notifications to alert customers about cancellations, alterations, or menu changes. This enhances the customer experience and builds loyalty.
5. Customizable Booking Rules
Any system worth considering should allow your restaurant to make custom rules for online reservations. This includes booking rules for party size, booking windows, lead times, and table-turning times.
This will ensure the booking system works for you and not the other way around. For example, during peak service times like a Friday night, you can limit party sizes or prevent bookings altogether. This directs online customers towards your less busy lunch and dinner services, maximizing your weekly table turnover.
6. POS Integrations and more
When set out to implement a reservation solution, find one that fully integrates with your existing POS system. Otherwise, you will be forced to use two separate systems (or switch to an entirely new POS platform). Choosing a reservation tool that fits your existing apps will ensure a smooth transition and onboarding process for your team. 
Integrations with your POS tools and other apps will allow you to connect data and introduce new possibilities for your business. For example, integrations with a business phone system will enable a feature like click-to-call for your team and customers.
7. Mobile-Friendly
A Google study found that 89% of consumers conduct dining research on a mobile phone before visiting a restaurant. Combine this with the growing amount of mobile phone traffic per smartphone, and you'll see the importance of having a fast, mobile-friendly system for your customers.
So there is no point in using a restaurant reservation app that doesn't provide a fast and good mobile user experience. Watch out for apps that lose functionality and aren't compatible with the most popular smart device operating systems today, such as iOS and Android.
8. Real-time Availability
You want a system that can provide both customers and your team with real-time status of table availability. This helps to boost the chance of getting more bookings when a spot opens up due to cancellations or parties that finish their meal quickly.
Some systems may require manual corrections or not even allow for last-minute changes in the calendar. Find a solution that has the flexibility to work in the way that best fits your restaurants.
9. Customer Account History and Promotions
The best restaurant reservation systems will allow you to store customer data on-site or in the cloud. This includes contact details, dietary requirements, payment history, and special occasions.
You will want a platform that is also fully compliant with data protection laws such as the following:
Payment Card Industry (PCI) Security Standards Council: This outlines best practices for accepting, processing, and storing customer payment information. It includes taking payments online and over the phone.
General Data Protection Regulation (GDPR): EU regulations ensure European consumers have a right to know how their data is used and request the deletion of all personal data stored by a business.
California Consumer Privacy Act (CCPA): This is similar to the GDPR but applies to California businesses.
Get with the Program
Consumers are going to spend more and more time researching and shopping online. The only way to avoid being left behind by history is to join the fun!
A restaurant reservation system makes it easy to widen your online presence. At the same time, it helps you improve customer loyalty by providing more convenient and personalized touchpoints.
---
Guest Author Bio: Nick Shaw – Brightpearl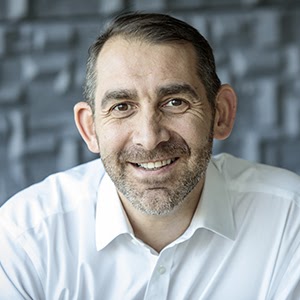 Nick Shaw has been Chief Revenue Officer (CRO) of Brightpearl, the number one retail-focused digital operations platform which encompasses sales and inventory management software, retail management system, accounting, logistics, CRM and more, since July 2019 and is responsible for EMEA Sales, Global Marketing and Alliances. Before joining Brightpearl, Nick was GM and Vice President of the EMEA Consumer business at Symantec and was responsible for a $500m revenue business. Nick has written for sites such as Recruitee and TIMIFY. Here is Nick Shaw's LinkedIn.