SimplyBook.me Mai-Newsletter – Individuelle Geschenkkarten & Systemverbesserungen, die Sie lieben werden
05/05/2023
126
0

This post is also available in:




Hi, and welcome to SimplyBook.me's May newsletter! I hope this message finds your business prospering and you in good health and spirits. I can't wait to share some exciting news with you this month. Our team has been hard at work on new developments and upcoming releases that we can't wait to share with you.
Firstly, we have some fantastic new features and updates to our system that will improve your experience (and your clients). Our tireless development team has been working to improve the performance and user experience of our platform, and we can't wait for you to try out the new features.
We have some exciting new releases in the pipeline that we know you're going to love. We have something for everyone coming up. We're always looking for ways to improve and expand our offerings, and we think you're going to be delighted with what we have in store.
New Releases & Features from April
This is what has already gone live. So, if you haven't spotted them yet, go and have a look. Maybe it will make your life easier!
Custom Design Gift Cards
Now this one I know you have been waiting for with bated breath. The option to create customisable gift cards to fit your needs and your branding is here now!!!
You can create your own design from scratch, but if your design skills are not quite that good, you can choose from the three templates provided.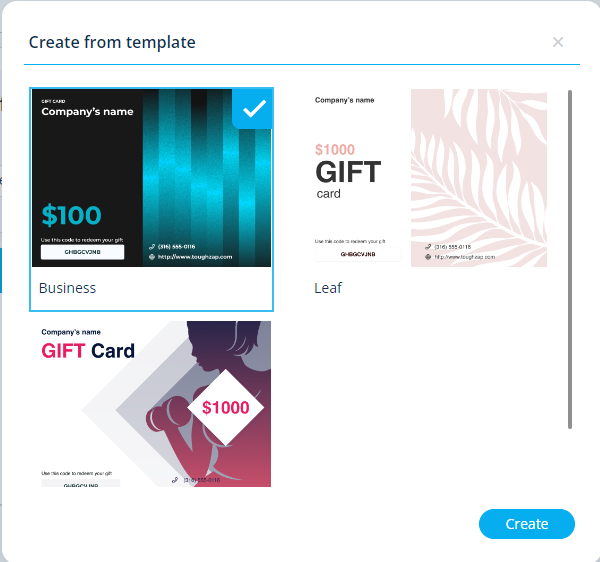 Don't panic if none of these seem to fit your ideas. The same as with the Custom email feature, you can customise these templates with your own colours, logos, text positioning, and more. These are to give you a helping hand with existing blocks and fields to get you started.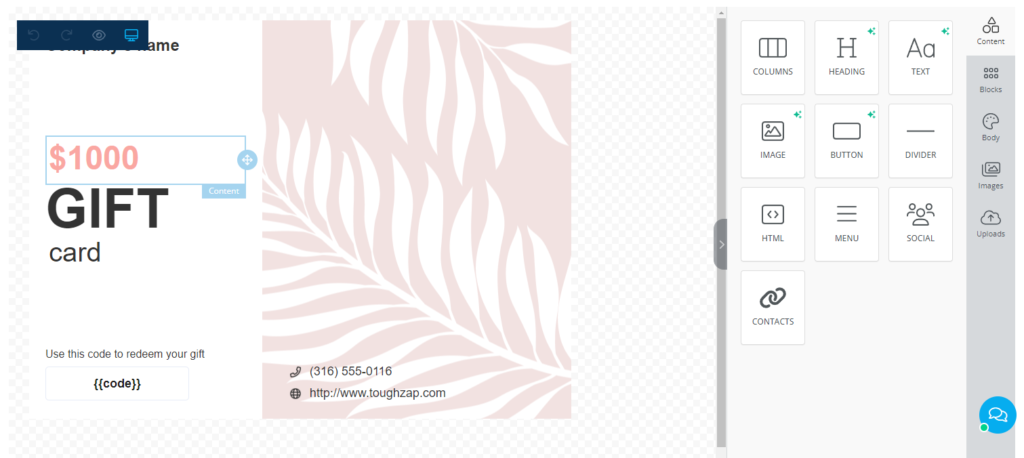 Then away you go with creating perfectly customised gift cards and coupons for your clients.

The Mobile Admin App
Well, there have been a few updates to the Mobile Admin App this past month. At the beginning of April, we released the contact information saving feature. This means you can click on a client, and a list of available contact channels becomes available to save to your device.

In addition to that fabulous feature that makes contacting clients via their preferred method easy, we also have another addition. Tap-to-Pay is now an integrated part of the Admin app.
Unfortunately, Tap-to-Pay is only available in the USA for now. However, it doesn't usually take long for them to start rolling things out across the globe.
This will bring so much flexibility to many users.

Report Enhancements
Everyone needs great reporting tools to keep the business running smoothly. We have been gradually updating and enhancing the reporting suite with SimplyBook.me and releasing them when they are ready rather than making you wait until they are all done. So this month, these are the new reporting improvements:
Client app filter – Withing the client report, if you are using the client app, you can filter whether your clients have downloaded the app
"show on page" – the option for how many results are shown on the page is now available above and below the table for convenience in all reports – much better than scrolling all the way back up.
Filter by payment status – In the Booking Details report, you can filter your bookings by their payment status. You can check here for unpaid invoices, payments pending, deposits, paid, etc.
HTML email editor -to clients from Booking details/Clients reports
Client Address – In exported files, the country was not displayed if only the country was filled in in the client address.

Remove Reviews from Booking.page
Booking.page is an excellent marketplace for our SimplyBook.me users. However, it didn't allow you to manage your reviews. While most of you probably have mostly positive reviews, and even the ones that aren't, allow you to address any problems.
But it only takes one vindictive and unhappy customer to flood your reviews with negativity, attempting to damage your reputation. Now you can remove these reviews to ensure that your name isn't dragged through the mud. You have the access to delete them completely, as it should be.

Be gone; poor review!
This doesn't just apply to poor reviews. Sometimes, because of the occasional fluctuations in internet connectivity, you might get duplicates (usually because a screen froze and people keep trying to submit the same review over and over). It doesn't look good when you have multiple reviews saying the same thing. People might think you are making them up.
Save widget code
Until now, when a user went to Settings//Booking widgets settings, they would set the design (theme, colours, logos, calendar layout, etc), click on "Get widget code", copy the code from the popup and paste it to their website. However, if, after a while, a user wanted to alter the parameters and settings, they would go back to the widget settings, and everything would have reverted to the default.
Now, when you define your widget, the system will save your
So now we are saving the designs that the user has selected, so if the user has generated the widget, the theme and colours will be saved, and they can reset the default if necessary. 
Upcoming Developments for May
What are we working on before summer makes everyone run away on holiday? Take a look and find out What May developments we have in store.
Pop-up in "Accept Payments"
Want easy access to payment processing in your admin app? Well, despite Tap-to-Pay only being available in the USA, there are other ways to process payments without it. There is now a very user-friendly look for the "receive payment" popup in payment transactions.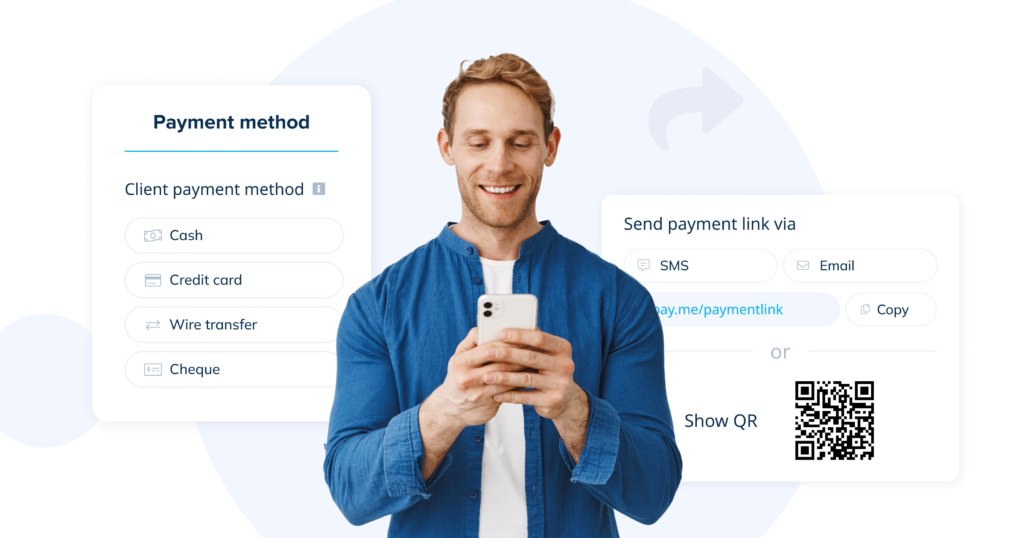 You can provide your clients with a sendable payment link, a pop-up QR code or use vaulted (saved) payment methods. This should be with you very soon…
Receive Tips
Whether you thrive on tipping culture or you hate it with your entire being, it's a part of business in many parts of the world. Especially in the service and hospitality industries.
Even though tipping culture is under fire, we won't see an end to it any time soon, and the least we can do is make it easy for you, your staff, and your clients.
Recurring memberships
If you sell memberships, you ideally want people to buy a recurring membership that doesn't request them to keep paying every month. They would probably prefer the same thing, rather than having to renew payment every month.
So that's what we are doing soon. Improving the client side flow to encourage clients to select recurring memberships.
Intake forms in booking details
Another reporting update is due this month. This time for intake form responses. We will show intake forms values in columns in the booking details report for a quick overview. With this, you will be able to spot trends in your clients and bookings based on their intake questionnaires.
Also, you can view responses in a filterable format rather than looking at individual client bookings.
Stay in Touch & Don't Miss a Thing
Don't wait for the next newsletter, there are some new developments in the May pipeline that will be available to you before the next month has rolled by. Stay in touch, whether by subscribing or keeping tabs on the notification in your admin app or dashboard.
Let us know what you think of our newest releases. And don't forget, you can always submit your development ideas and requests to the "suggestion box". You can also see if your suggestion is under consideration, in development, or maybe we have already released it.