Desenhos de Modelos de Email Personalizados – Novos e Melhorados
04/04/2023
102
0

This post is also available in:




It is a fact that we are not all designers, blessed with artistic and technical skills to create superb email templates to tempt the most difficult of clients. But the fact is, we don't have to be. We know that the biggest thing we can give to our clients is the best service we can offer. However, that doesn't mean that excellent and engaging email design isn't crucial. It is!
So you could get a hotshot designer to come up with a vast range of branded email template designs that encompasses every possible reason for sending an email to your clients. It would be awesome to have a fabulous design collection that you don't need to code or create anything but text. Yet that could be an extortionate amount of money you don't have available all at once.
But what if you could have the perfect compromise?
---
Custom Email Template Designs
SimplyBook.me scheduling solution implemented a custom email template creation tool a while ago. People with some design skills could use the feature to create their own awesome templates. With it, we also included some pro forma templates to use as the basis of most of your email marketing needs. we expected most people to use these as the basic layout and adjust images, colour schemes, fonts and more. However, we know that wasn't anywhere near enough, and we also know that some of you need a little more inspiration and different themes and layouts.
Check out the New Designs
We started out with 14 different design types for users to customise as required, with different purposes, occasions, themes and designs. However, 14 designs are not enough to give a broad overview of the vast number of reasons for sending an email to clients.
Now we have 33 email template designs, that are all fully customisable for your needs. Have a look at them all, or you can filter by occasion, industry or design themes.

If you have a specific holiday or occasion that requires a particular design, we have most of the most common ones covered. From celebrations like Valentine's Day to sales events.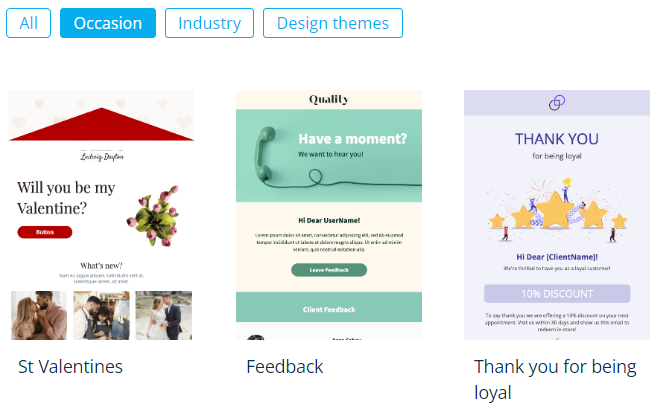 Alternatively, you might be looking for a design that reflects your business type. You might not actually want to use a design that we have created for your business type, but these are just what our designers have created for you to play with.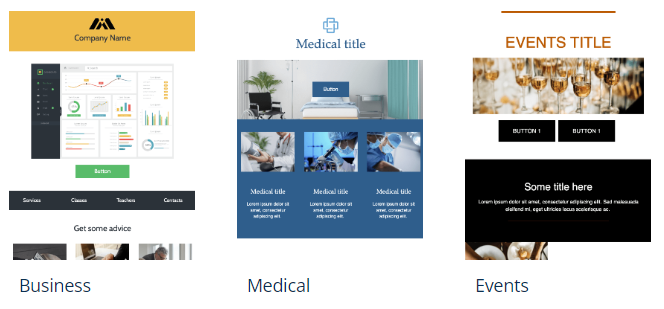 Another awesome option available is to choose an email design to match the customised design templates for your booking website. There would be no mistaking that your emails were directly connected to your booking website. There are email designs available for almost all of the corresponding booking website templates.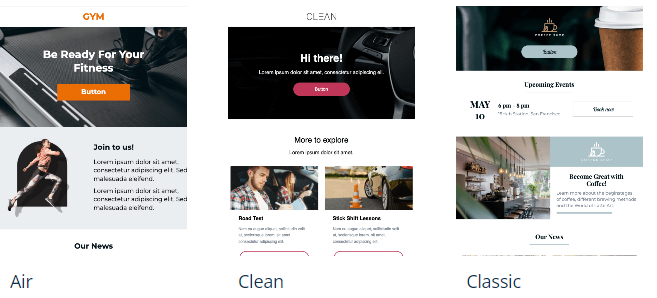 Customise for Your Needs
You can customise all of the email template designs to your branding, colour schemes and layouts. You can choose elements you like and switch them around. And you need virtually no graphic design skills to produce professional-looking email templates for every need you might have.
The best part is, that once you have a standard template on which you can base all of your designs for occasions and events, you can save it for reuse. As you progress, you can create base templates for all occasions and events. Then all you have to do is change small things like text and decorations to suit the occasion.
Create Your Own!
We know there is no way we can email template designs that everyone will love, for every industry and occasion, but we can provide you with a starting point. The great thing is that when you have got the hang of tweaking and customising the template designs, you can even create your own from scratch.
Upload your own images, source your own vectors and logos, and create something truly unique to your brand.
However, you don't need to. You can use existing templates to create your desired effect that is just as commanding as anything you or a designer can do, but without the hassle.